Posted By Kerri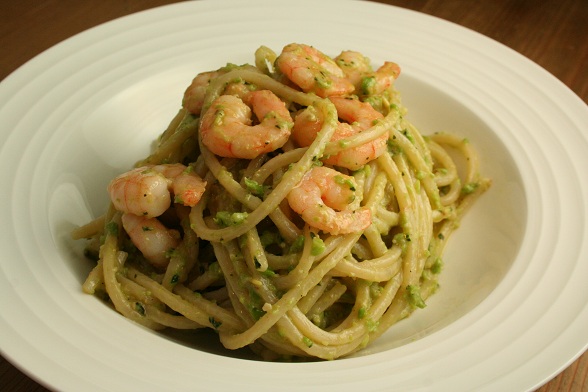 We have been enjoying fresh peas lately and out of some enthusiasm, I picked up two bags instead of one because… well just because. Kerri had had some plans for peas in combination with broad beans, but we couldn't find any broad beans so the plans changed and we ended up making a mighty mound of pea pesto with all the peas. The quantities are very approximate, but it went something like this:
Pod two bags of fresh peas and boil / steam the peas until just cooked. Roast a small bag of pine nuts until golden brown. Bash the nuts with a mortar and pestle, along with half a clove of sliced garlic. Pick about half the leaves off a largish basil plant. Grate three quarters of a small block of parmesan.
Put the peas and basil into a food processor and process until fairly smooth, drizzling in olive oil as you go. We didn't add that much oil as we wanted it to be fairly healthy (negated somewhat by all the cheese and nuts, but at least we tried) and it was a lot firmer than real pesto would be. Put the pea and basil paste into a saucepan and add the nuts and grated cheese. Stir well and heat very slightly just enough to melt the cheese. Add plenty of pepper and salt if required.
Because of all the pea-pesto-making, we forgot to cook the prawns until the last minute. Which was fine, because they turned out well – just fried them quickly with a little garlic. The combination was very good, with the roasted nut flavours coming through well and combining with the fresh pea and basil. The sweet garlickiness of the prawns balanced it beautifully.
No Comments! Be The First!
Leave a Reply
You must be logged in to post a comment.