Posted By Kerri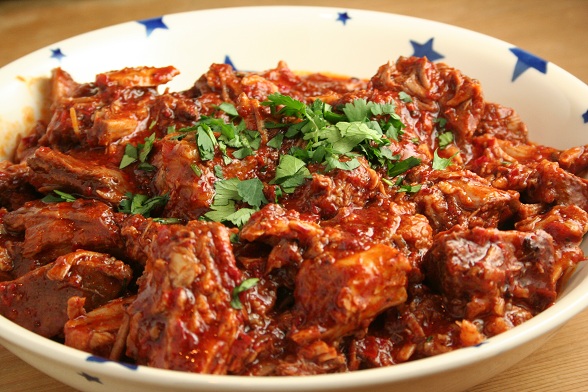 Having been to Borough Market on Friday and replenished our supply of dried chillies, it seemed only right to cook something Mexican this weekend. While I was there, I visited the Ginger Pig and picked up a pork shoulder. Initially, we planned to roast it simply and eat it with some roast potatoes and vegetables but, craving something spicy, we decided to roast it Mexican-style instead. On looking up the recipe, we noticed the red onion accompaniment and since we have a surfeit of those, they made their way onto the table too. We followed this recipe but I think ours look prettier.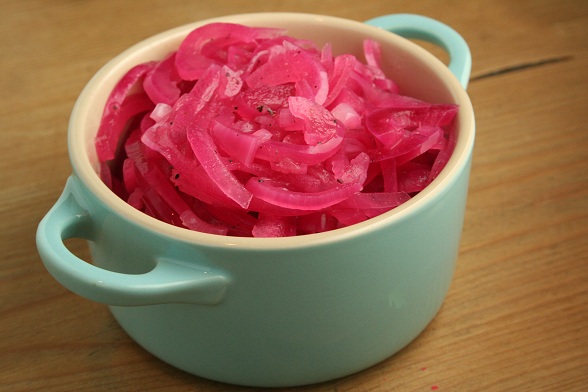 There's a little bit of work to do upfront with this dish but once it's done, the pork sits happily in the oven for three hours while you get on with your Sunday. We spent that time watching movies and eating Marmite popcorn (brilliant, give it a go) before cooking the green rice and sitting down to dinner.
The green rice didn't turn out as well as last time and it looked far too unappetising to photograph, it tasted okay though. The pork took on much more flavour this time; after shredding it, we added it to the remaining chilli sauce and left it to heat through again before serving. I imagine it will taste even better tonight though, having spent 24 hours in the fridge.
Posted By Kerri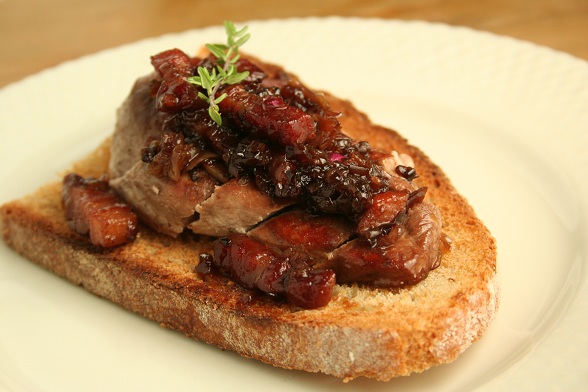 I went to Borough Market on Friday, primarily to stock on some Mexican ingredients we were running low on but also to buy some springbok. We ate quite a lot of it when we were in South Africa and were keen to cook it again at home.
While I was there, I also spotted some pheasant breasts that were being sold off cheaply. At least I think they were pheasants. I got home and couldn't remember what I'd bought so had to email a picture to some friends to check. These were cooked quite simply (with some garlic and shallots and then flamed with some brandy) and served on toast as a starter. Really though they would have worked better in a salad, cooked the same way but with a mustardy dressing added at the table.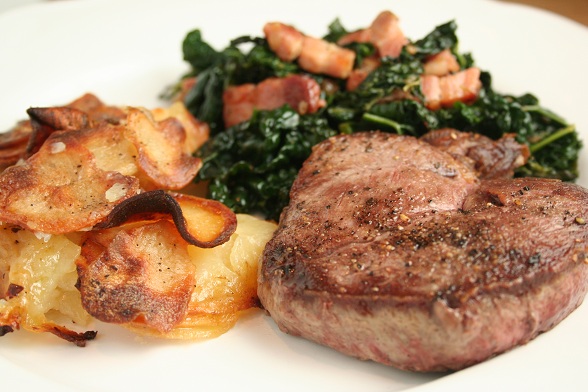 After last week's boulangere failure, I made sure to get these in the oven much earlier and with less stock and three hours later we were rewarded with perfect potatoes.
The springbok was fried simply and then served with an espresso sauce, something we ate while we were away. The sauce was simple to cook: soften some shallots and garlic, then add some red wine and allow the alchohol to cook off. Add a little beef stock, the brewed coffee and then season. Add just a little red wine vinegar to balance and then serve. We opted for some cavolo nero cooked with lardons as an accompaniment which worked well. Springbok is lean and needed some extra fat. The moist potatoes were a great partner here too.
Posted By Kerri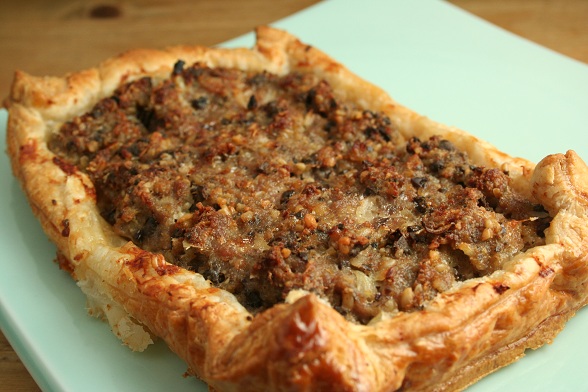 Last year, we made haggis sausage rolls as a starter before the traditional Burn's Night meal of haggis, neeps and tatties. We remembered them fondly so, this year, decided to cook just the sausauge rolls. What we both particularly liked about the sausage rolls was the outside edge where the meat meets the pastry and the fat combines. So, we changed our minds and decided to make a tart, reasoning that there would be more of those sticky, crispy edges. This didn't quite work out but it still made for good eating.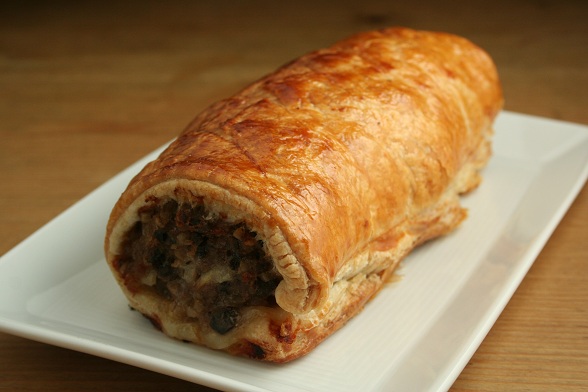 In order to thoroughly test the theory of those edges, we made a sausage roll too. We both actually preferred this and really should have stuck to that in the first place. The traditional whisky and cream sauce would have worked well with this but, fearing for our arteries, we ate salad instead.
Posted By Kerri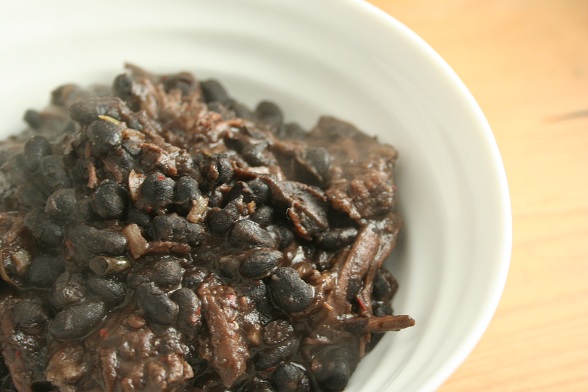 (Apologies for the terrible picture, I should have waited for the steam to dissipate. And set the whole thing up a bit better).
I knew when we bought the brisket that there would be lots leftover so I planned to turn the rest into tacos or wraps with the addition of some chilli sauce and some black beans. That chilli sauce is brilliant at turning leftovers into something exciting but it does pay to use a variety of dried chillies so that you can layer up the flavours. I get these at Borough Market but there are various online stockists that carry them too.
As it turned out, Stephen was out this evening though so I just had the beef and beans without the bread, cheese, guacamole, sour cream, etc. The beef was certainly much more enjoyable eaten this way but the beans were the real star.
I cooked them in the oven using a no-soak method I read about on eGullet. I don't generally soak my beans anymore anyway but I haven't tried cooking them in the oven before.
Oven-Cooked Black Beans
Cover the beans in water, add salt (since I knew I was going to be turning these into a variation of refried beans, I also added chilli, garlic and onion) and bring to the boil on the hob. Put a lid on the pot and then transfer to a pre-heated oven (at 150 degrees) and cook for 75 minutes.
Ours took a little longer than this and we did need to top up the water with boilng water from the kettle but otherwise, the method worked out really well. We had the oven on anyway and the resulting beans were tender and evenly cooked, something that can be difficult for us to achieve on the hob since our gas feed runs high and keeping an even temperature with a diffuser plate isn't that easy. I'll definitely be using this method again.
Posted By Kerri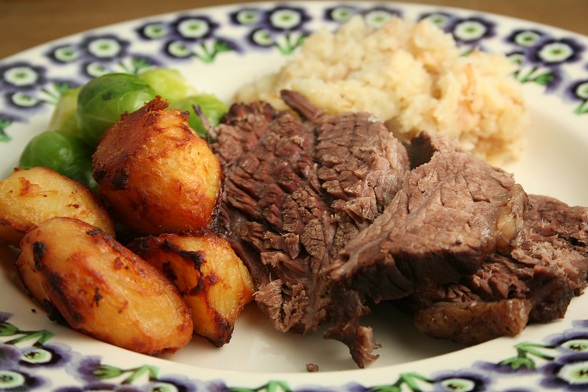 This has been on my "things-to-cook-soon" list for ages. I'm a big fan of slow-roast dishes and thought this might be a good alternative to our favourite slow roast shoulder of lamb. Well, I'm not sure if we did something wrong (seasoned and braised in a couple of pints of stock and wine at 160 degrees for three hours. There were carrots, onions, celery, bay, garlic and some dried herbs in there too) or if we just had a poor piece of meat but we really didn't like it.
The gravy had plenty of flavour but the beef itself was tasteless and dull. We bought a larger piece of beef than we needed for today's lunch so that we could use the leftovers tomorrow which I'm hoping will be better. I can't see us cooking brisket to eat this way again though.
Posted By Kerri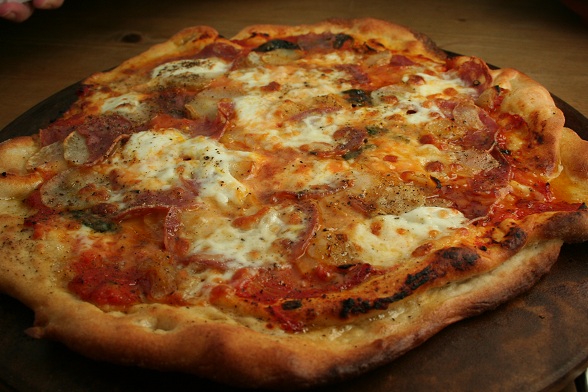 This was so good, we ate it two nights in a row. Admittedly, we did have pizza dough left over, as well as a surplus of artichokes but this really was worth cooking again.
Unlike the artichokes we cooked when making salad, we didn't parboil these but just sliced them finely on a mandoline and then fried them quickly over a high heat. This method worked much better, resulting in crispier artichokes which soaked up less oil. It also produced a much more concentrated, nutty flavour which worked very well with the sweet salami. A scrape of lemon zest provided a good balance on the first night with capers instead tonight. The lemon just edged it.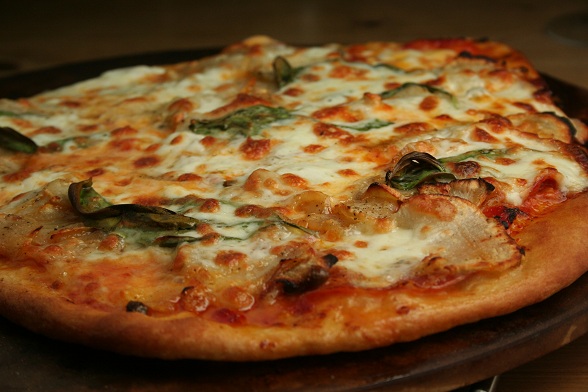 We use Jamie Oliver's pizza dough recipe which we've documented here, I experimented by adding a little more sugar (maybe another quarter tsp) and yeast (7g instead of 6g)this time which seemed to work well resulting in a crispy, light base.
Posted By Kerri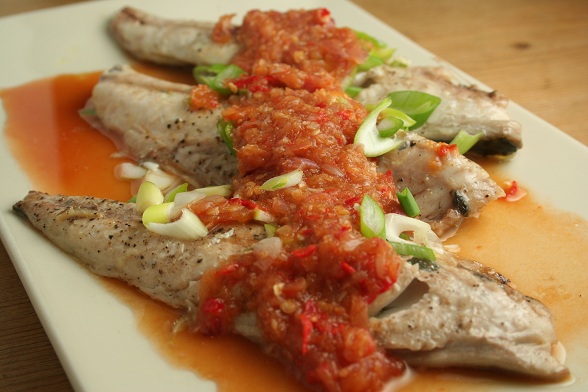 This doesn't look as attractive on the plate as I was hoping for. We had some trouble getting the skin on the mackerel to crisp up for some reason, perhaps we over-crowded the pan. While we presented it on a plate, we actually ended up flaking the fish onto some jasmine rice and mixing in the sauce. That would have looked even less pretty though so I suppose I should be grateful that we have this picture.
I've been craving mackerel this week, most likely because there's been so much focus on sustainable fish in the media lately (you can read more about it here). We had a surfeit of Thai-style vegetables left over from earlier in the week and this recipe from "Thai Traditional Cooking – The Mother's Recipes" seemed perfect. It specified whole, white fish but there was definitely enough punch in the chilli sauce for a stronger tasting fish like mackerel.
It wasn't as quick as the prawn dish we cooked on Tuesday but it didn't take a lot longer. It had that perfect balance of hot, sour, salty, sweetness that Thai food is known for and kept us full all evening. £2.75 for those four mackerel fillets so easy on the wallet too. A good January dish.
Pla Rad Prig (Fried Fish with Chilli Sauce)
Serves Two
4 mackerel fillets
2 shallots, peeled and chopped
2 cloves garlic, peeled and chopped
5 small, red chillies, chopped
1/2 tbsp sugar
2 tbsp fish sauce
2 tbsp tamarind juice
2 tbsp water
Oil, for frying
2 spring onions, sliced
Start by cooking the mackerel fillets in some oil. We used a Jamie Oliver method that we saw on TV recently: fry the fish skin side down until the flesh on top has almost cooked through. Turn, cook briefly and then remove from the heat.
While the fish is cooking, pound the chillies, garlic and shallots together in a mortar and pestle until you have a rough paste.
Heat the tamarind juice, sugar and water together until boiling. Add the pounded ingedients and cook for two minutes. Add the fish sauce and then pour over the cooked fish.
Dress with the spring onion and serve with jasmine rice and some vegetables.
Adapted from "Thai Traditional Cooking – The Mother's Recipes" by Maria Kanignan Saunders. Neither of us know where this book came from and the only online reference I can find for it is on Amazon, listed at £35. It's a good book but it's very small and probably not worth that much.
The orginial recipe called for 10 small, red chillies which I thought sounded too much so I halved it. This was about the right kind of heat for us but it could have taken a little more so increase if you like extreme heat. There was no water in the original recipe either but there didn't seem to be enough liquid from just the tamarind so we added that in too.
Posted By Kerri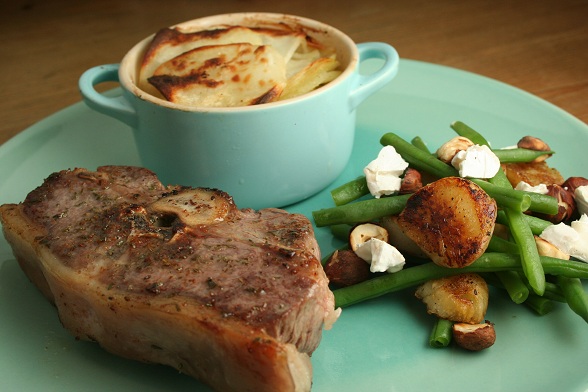 I didn't think I'd eaten Barnsley chops before but, as it turns out, I ate them once before with a salad very similar to this one. The salad was slightly different this time, I par-boiled the peeled Jerusalem artichokes before leaving them to cool and then slicing them. I then fried them and added them to some cooked grean beans and some toasted hazelnuts. Some goats cheese was then squidged on top. I was planning to crumble the goats cheese but it was too ripe for that.
The "salad" was really good and worked well with the lamb chops but I think it has potential as a stand-alone dish or as a starter. We added a drizzle of oil after taking the photos which brought everything together.
The boulangere potatoes were not so good. I thought since I was cooking them in smaller dishes I could get away with a shorter cooking time but it seems I was wrong. An old post tells me I usually cook them for 3.5 hours which seems a really long time but I do remember them as being very good so next time I'll remember not to rush things.
Posted By Kerri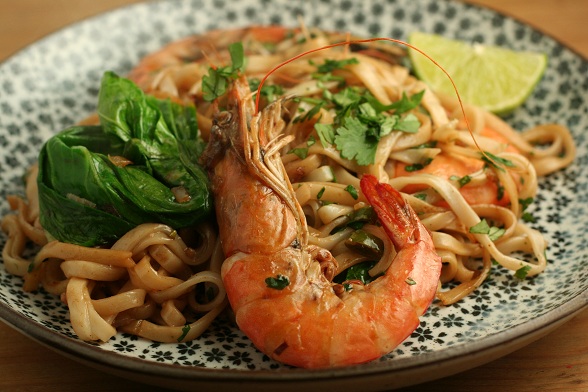 Not a particularly imaginative title I know but I was at a bit of a loss to describe this dish. It wasn't true to any particular cuisine since there were so many flavourings going on but it tasted good which was enough for me. And it only took 10 minutes to cook! The kitchen looked like a bomb had gone off when we sat down to eat and took a fair while to clean up but, 10 minutes! From start to finish!
Prawn Noodles
Serves Two
Oil, for frying
1/2 onion
1 clove garlic
1 red chilli
1 green chilli
Pinch of dried ginger (fresh would be good but we didn't have any)
Prawns (we used shell-on prawns but the shelled type would be less of a faff)
Thai-style ribbon noodles (we used the Sharwood's "Ready to Wok" type)
1 tbsp fish sauce
1 tbsp soy sauce
1 tsp sesame oil
2 tbsp Chinese cooking wine
Handful coriander, chopped
In a wok, start by frying the onion, garlic, chilli and ginger for a couple of minutes and then add the prawns. As the prawns start to colour, add the noodles and stir to incorporate.
Add all the liquids, stir again and then put the lid onto the wok. Cook for about 3-4 minutes with the lid on, sprinkle with coriander and then serve.
Marvel at how quick and easy this was to cook. Then eat.
Posted By Kerri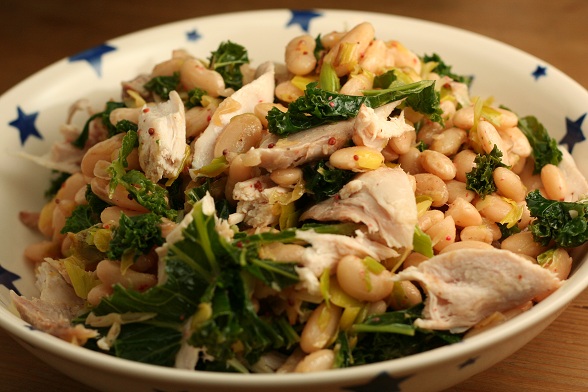 I say this often but one of the very best things about a roast chicken is the amount of leftovers it generates. If you were left with lots of turkey leftovers after Christmas then this may be a bit too soon for chicken leftovers, luckily we managed to avoid that by going on holiday.
We decided to combine the chicken with some leeky, mustardy, beans. I cooked the beans on Sunday while the chicken was cooking so all I had to do tonight was soften some leeks and garlic, add the beans with some oil and mustard (raspberry mustard in this case, if you were wondering what those funny pink specks were) and then stir in the chicken. I added some extra kale for a bitter note to counteract the sweetness of the mustard.
« Previous Page
—
Next Page »