Posted By Stephen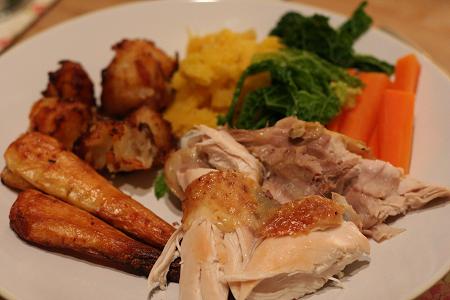 There's not much I can say about roast chicken that I haven't said before. We eat it a lot, especially on a Sunday. We always cook it much the same way, salt and pepper on the outside and inside the carcass. Olive oil on the outside. Some combination of garlic, onion, lemon and herbs inside the carcass. Roasted on an onion for about an hour.
Today, we had a Label Anglaise organic chicken from our new butcher, we roasted it with shallots, garlic, lemon and thyme. Served with roast potatoes, roast parsnips, carrots, savoy cabbage and mashed swede.
It was as delicous as ever, and just what we needed after a busy weekend.
No Comments! Be The First!
Leave a Reply
You must be logged in to post a comment.