Posted By Stephen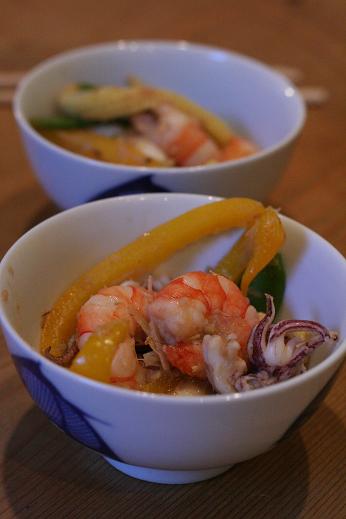 Having decided that stir fries can be a tasty and quick way to comply with our healthy eating regime, we tried another one tonight. This was a Thai style stir fry with prawn and squid. We added vegetables (yellow pepper, baby corn and mange tout) to an existing recipe. The recipe called for insane amounts of chilli, so we toned it down a bit. Here is an ammended version:
8 raw prawn tails
4 smallish squid
half a red or yellow pepper, cut into thin slices
a handful of mange tout
a handful of baby corn split vertically
2 birds eye chillies, seeded and chopped
2 shallots, chopped
1 stalk lemongrass, chopped
2cm or so ginger, grated
1 tbsp Thai fish sauce
1 tbsp lime juice
1/4 cup chicken stock
vegetable oil for frying
Pound the shallots and lemongrass in a mortar and pestle until almost paste-like (or use a food processor!). Add the ginger and pound a bit more to combine.
Heat a wok and add the oil. Fry the paste and the chilli for a few minutes until aromatic. Add the vegetables and stir fry them for a bit, then add the chicken stock and stir some more. Turn down the heat and put a lid on the wok for a few minutes until the vegetables have softened a bit.
Turn the heat back up and add the prawns and squid. Stir fry for a few minutes until they are done. Add the lime juice and fish sauce, then stir and turn off the heat.
Serve with jasmine rice.
No Comments! Be The First!
Leave a Reply
You must be logged in to post a comment.