Posted By Stephen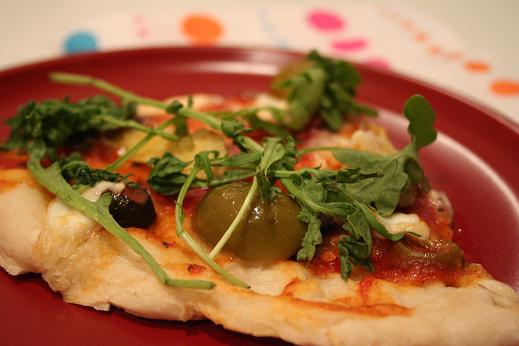 We'd been planning pizza for tonight for a week or so. So we got home this afternoon and made the pizza dough, kneaded it and left it to rise for an hour while we wandered off to the local wine shop where they had some Australian winemakers visiting to show their wines. They were from Jane Brook and we particularly liked their verdelho and shiraz.
Verdelho always reminds me of Italian or Spanish wines and this one was particularly good, with a slightly savoury nose with notes of asparagus. The Shiraz had an intense nose and full palate without being overwhelming; the 14.5% alcohol was well hidden by all the other flavours.
When the pizza was ready, we had it with some of the verdelho mentioned above. The pizza topping included bruschetta topping, mozarella, olives, artichoke hearts, sundried tomatoes and fresh rocket leaves. The verdelho went particularly well with the pizza; probably because of the artichokes and olives.
No Comments! Be The First!
Leave a Reply
You must be logged in to post a comment.