Posted By Kerri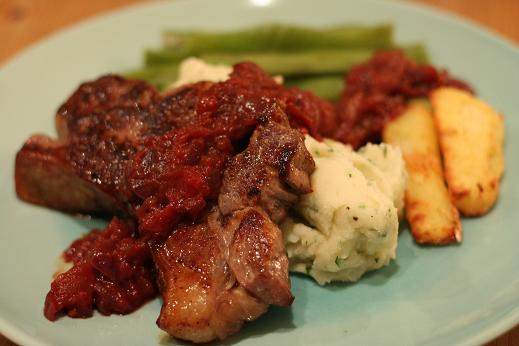 That sounds a bit "cheffy" doesn't it but I don't know what else to call this. We bought some lamb chops to eat last night but weren't hungry enough and ended up eating cheese instead. We'd planned to have them tonight with sauteed potatoes but a friend of mine suggested this instead. Sautee some onions and garlic then added red wine, balsamic vinegar and some tinned tomatoes before reducing the sauce for about 20 minutes. It worked well with the lamb, a good mix of slightly tart onions balanced by the sweet tomatoes and balsamic vinegar.
We served this with mashed potatoes, roasted parsnips (which, although good, didn't work) and runner beans – I think that'll be the last time we eat runner beans this year though as they were quite tough. Not the last time for the reduction though, I think that has a lot of potential.
No Comments! Be The First!
Leave a Reply
You must be logged in to post a comment.