Posted By Kerri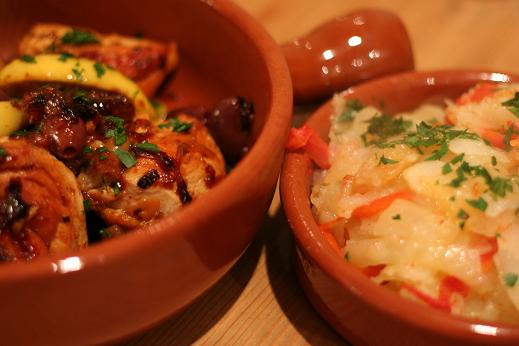 We weren't intending to eat at home on Saturday night but a bought of illness meant a change of plan. We needed to find a recipe that used ingredients we already had, Stephen suggested using one of our new Spanish books as the recipes are straightforward and don't require lots of complicated ingredients.
The chicken was very easy and resulted in a tasty and comforting dish. This recipe comes from the Andalucian region and is considered a homely dish and not something you'd necessarily find in a restaurant, it's from Jenny Chandler's The Real Taste of Spain.
Serves Two
Two chicken legs, jointed
Salt
Olive oil
1/4 tbsp rosemary, chopped
1/4 tbsp thyme, chopped
Five mint leaves, chopped
1/2 tsp sweet paprika
One onion, thinly sliced
Three garlic cloves, whole
1/2 small dried red chilli
35ml dry sherry (we actually used about 60ml altogether, most of which was wine with a little sweet sherry as, somewhat mysteriously, our dry sherry has run out)
75g black olives
1/4 lemon
Season the chicken with salt then fry until the skin is crisp and golden. Remove from the pan and toss with the herbs and paprika.
In the same pan, brown the onions and then add the garlic and chilli and allow them to colour.
Add the chicken back to the pan, pour in the sherry and transfer to the oven for 40 minutes.
Add the olives and lemon and cook for a further five minutes.
Even though we increased the amount of liquid I think we'd increase it further next time, the juices in the bottom of the pan were delicious but scarce. More olives wouldn't hurt either.
The recipe suggests serving this with crusty bread but we opted to make the potato dish instead, from the same book.
Olive oil
450g potatoes, thinly sliced (we used Maris Piper and a mandolin)
1/2 onion, thinly sliced
1/2 green pepper, thinly sliced (we used red but would probably leave this out next time)
One garlic clove, crushed
1/2 tbsp wine vinegar
Handful fresh parsley
Add half the oil to a frying pan with a lid, layer up the potatoes, onion and pepper seasoning as you go. Add the rest of the oil, cover with lid and cook over a gentle heat for 30 minutes, stirring occasionally.
Remove the lid and add the garlic then increase the heat to brown the potatoes. Sprinkle with vinegar and parsley before serving.
These turned out really well and were particularly tasty given the few ingredients (this recipe is also from Andalucia and hails from poorer times before the influx of tourists). Next time we need to remember to stir more often (we were watching a movie…Psycho if you're interested) and brown for longer…there were some deliciously crunchy, gooey pieces of potato stuck to the pan that we fought over!
We both really enjoyed the dishes and look forward to experimenting with more Spanish cooking.
No Comments! Be The First!
Leave a Reply
You must be logged in to post a comment.