Posted By Stephen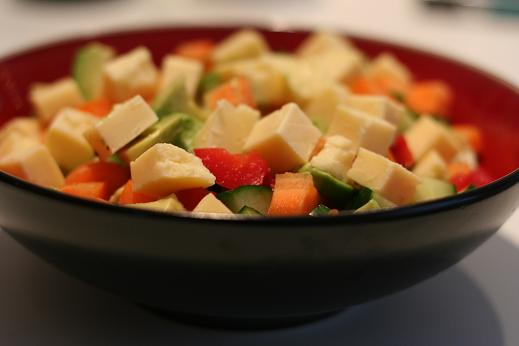 Kerri was out tonight and I was in the mood for something healthy. Mostly due to a late night last night. We did have rather a lot of salad at home waiting to be eaten and on the way home I was thinking of cooking something interesting and having salad with it. The more I thought about it, the more I fancied the salad itself rather than anything else. So salad it was, with some cubed cheddar.
Not a particularly exciting salad: lettuce, cucumber, red pepper, carrot, celery, avocado and cheese. Cut into pieces slightly larger than Kerri usually likes them. Then drizzled with olive oil, a squeeze of lemon and a sprinkling of salt. At the last minute I added some pine nuts too, but not very many.
It definitely satisfied my craving for something healthy and the avocado was really good; just the right ripeness. Yum.
No Comments! Be The First!
Leave a Reply
You must be logged in to post a comment.