Posted By Stephen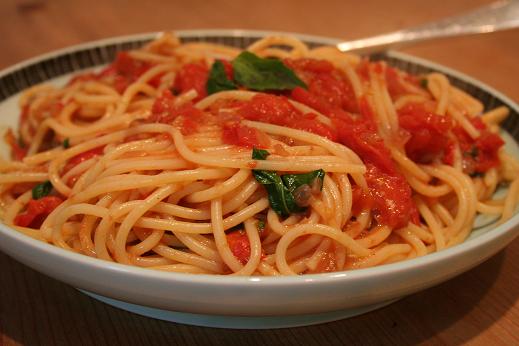 This evening we were both rather tired, so didn't fancy doing too much cooking and ended up making spaghetti with semi-randomly thrown together sauce. It all worked out rather well in the end. It might seem a bit egotistical to name it after myself, but it was Kerri's idea to do so 🙂
The recipe is as follows… serves 2…
Ingredients:
1 medium red onion, finely diced (use a white onion if you like, but we only had red at the time)
1 large clove of garlic, crushed or sliced very thinly
50g anchovy fillets in oil, drained
250g cherry tomatoes
1 mild chilli, seeds removed and finely chopped (if you only have hot chillis, just use less)
1 large sprig of basil, leaves picked and ripped up rustically Jamie style
1 tablespoon extra virgin olive oil
oil for frying
freshly ground black pepper
Method:
Heat the oil in a saucepan, then gently fry the onion for a few minutes before adding the garlic and frying for a few more minutes. Add the anchovies and chilli and continue frying, stirring often to break up the anchovies. When the anchovies have almost broken down into a paste, add the whole cherry tomatoes to the saucepan. Prick the tomatoes in case they pop later. Cook for about ten minutes, prodding the tomatoes every now and then until they pop, then season with black pepper and stir for a bit. When the sauce has reached a good consistency, stir in the basil leaves and add the tablespoon of extra virgin olive oil and remove from the heat.
Oh yes, and good some spaghetti while all of this is happening. Then drain the spaghetti and add it to the sauce.
It turned out to be really well balanced. I was a bit worried at one point that it would be too sweet because of the cherry tomatoes, but the chilli (not that it was very noticeable, being a strangely mild version) and the saltiness of the anchovies balanced it out. It also had an almost creamy texture, which we put down to the way the anchovies cooked down and combined with the tomatoes. Yum. I ate too much of it of course.
No Comments! Be The First!
Leave a Reply
You must be logged in to post a comment.