Posted By Stephen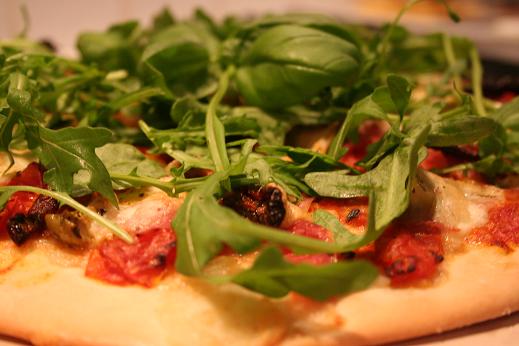 Seems like we've been all about the pizza and pasta lately. If either of us had a personal trainer, I'm sure that he/she would be shouting at us right now. Anyway, that's not the case so here we go… 🙂
When we've made pizza dough before, we've made it with what is supposedly the Pizza Express recipe. This time we decided to try another recipe as that one requires lots of waiting for it to rise, then kneading more, then rising again, etc. We found a Jamie recipe and decided to give it a go.
Jamie is great on television with his rustic bish-bash-bosh, but trying to emulate his apparently easy-going hands-on approach in your own kitchen without the aid of numerous retakes and staff to clean up after you, is of course another story. This is a case in point:
The recipe said to mix your yeast with some sugar in a bowl with some lukewarm water and leave it to stand for a while. Easy enough. Then it says to pile up your flour on a clean work surface, make a well in the middle and pour in the liquid. Okay, a little precarious but we're still managing. Next he says to start mixing the flour into the liquid with a fork, slowly, starting from the inside. Sounds easy enough, and for a few seconds it went well. But then the liquid started to breach the wall of flour and run out onto the work surface. Trying to plug that breach just caused another, and soon we had yeasty water all over the work surface, down the fronts of the cupboards and on the floor. Great, thanks Jamie. Next time we'll use a bowl and dough hook.
Anyway, once we'd managed to salvage what we could of the dough, knead it for ten minutes and leave it for another 15 to rise, we topped it with some garlic, basil and cherry tomato sauce that we'd made, along with parma ham, sundried tomatoes, some lovely marinated olives and of course mozarella. Quick bake in the oven on our pizza stone, then topped it with rocket and it was ready!
No Comments! Be The First!
Leave a Reply
You must be logged in to post a comment.