Posted By Kerri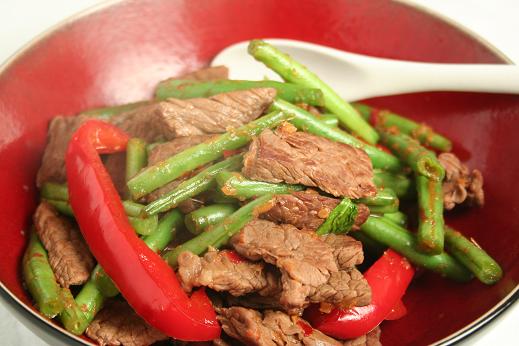 This was very quick and simple to make, perfect for a cold, wet, Monday:
1 red chilli, chopped
2 garlic cloves, chopped
Tablespoon ginger, chopped
3/4 red pepper, sliced
Handful green beans, chopped
Medium steak, sliced
Tablespoon soy sauce
Tablespoon fish sauce
Four tablespoon stock
10 basil leaves
Pound together the chilli, garlic and ginger with some salt until you have a paste.
Fry paste in oil until fragrant.
Add steak and cook for a couple of minutes.
Add vegetables, soy sauce, fish sauce and stock and cook for another couple of minutes with the lid on.
Just before serving, add basil.
Serve with jasmine rice.
No Comments! Be The First!
Leave a Reply
You must be logged in to post a comment.