Posted By Stephen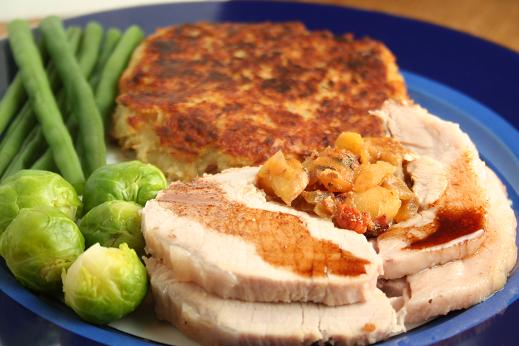 Firstly, this was really good. I felt I should say that just in case the rest of the entry doesn't convey it and I forget to add it. That said, what we had was roast pork with a caramelised apple and chorizo stuffing, cooked from this recipe, and also potato and parsnip rosti cooked from this recipe.
First we caramelised the apples (as the title implies) and then fried some chopped chorizo with onion, garlic and thyme and added the apples to them. This was the stuffing, which we stuffed into our loin of pork. The loin of pork that we had was rolled, so we unrolled it, stuffed it and then re-rolled it. We were worried that the stuffing would just fall out at this point, but enough of it managed to stay inside.
For the rosti, we picked a recipe (linked above) that didn't require us to cook the potato first, as that had caused us problems last time we cooked rosti. We mixed the grated potato with grated onion, grated parsnip, melted butter and thyme and seasoned well, then fried on either side for a bit before being finished in the oven (finishing in the oven wasn't part of the recipe, but we'd made them a bit thicker than specified and didn't want the outsides to burn in the frying pan while we tried to get the middles cooked through).
We also cooked an acorn squash, which we simply chopped in half longitudinally, then scraped out the seeds and seasoned and added a knob of butter before roasting for an hour. Also steamed some green beans and some brussels sprouts (the first of the year for us) but they weren't that interesting compared to everything else that was happening.
Actually I forgot to mention the balsamic reduction sauce. The recipe included this, but we were both a bit skeptical of this as neither of us is a big fan of such things, being so sweet, sticky and ubiquitous. However, when we realised that we were not going to have any gravy, we decided to follow the recipe and see what happened. It turned out rather well actually, in small doses.
And last but certainly not least while the pork was resting, I removed the crackling to put it back into the oven to crisp up some more. But it was already perfect and didn't need to crisp up. It was crispy, and well seasoned and altogether brilliant and possibly the best crackling we've ever made. Previously we've done various things to make it crispier, like pouring boiling water over the skin before cooking, salting it the night before, etc, but this time we didn't need any of that for some reason. Maybe it was a bigger joint than usual, so just cooked for longer. Pity there wasn't more.
Yum.
F.
No Comments! Be The First!
Leave a Reply
You must be logged in to post a comment.