Posted By Stephen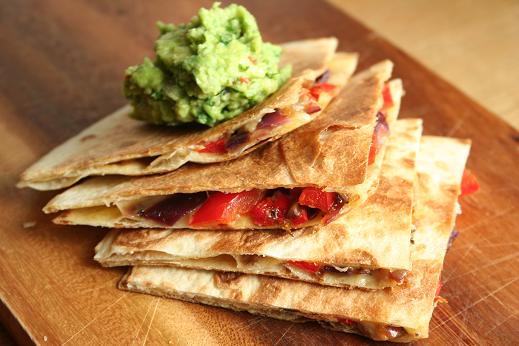 Kerri had suggested these a while back and we ended up having them this evening. She looked at a few recipes but decided to make our own quesadilla-like recipe.
We marinated some sliced red peppers, sliced red onions and chopped garlic with some lime juice, chopped coriander and ground cumin. Then we fried this mixture for a while as if we were making tortillas, the piled it onto flour tortillas and sprinkled with grated cheese (just used cheddar, didn't have any more authentic Mexican style cheese available) before topping with another tortilla.
We dry-fried these on one side, then the other, on a low heat, to get the cheese to melt. With a blob of guacamole, they were rather good as a quick supper. They would of course be good with chicken in too, but the vegetable versions weren't bad either.
No Comments! Be The First!
Leave a Reply
You must be logged in to post a comment.