Posted By Kerri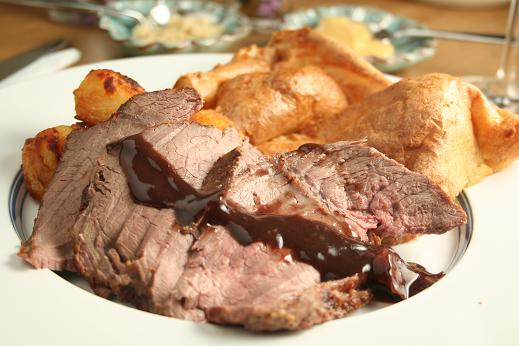 We'd talked about having roast beef on New Year's Day but settled on chicken instead, neither of us had been able to get the idea of beef out of our heads though so decided to have it today.
Stephen went sale shopping today so while he was out I started the preparation. I like to coat the outside of the beef in a mixture of flour and mustard powder, it's a Delia tip and one that works well. It helps to create a good crust on the outside of the beef and the mustard adds a peppery note. We have a surplus of shallots so I halved a couple of those and used them to create a base for the meat to roast on.
Yorkshire pudding is firmly a Stephen job but since he wasn't here I got on with it, adding a teaspoon of horseradish to the mixture for a change. It leant another peppery flavour to the finished dish but was rather too subtle; we'll double it next time.
The roast potatoes were roasted in a mixture of goose fat (there's still loads left!) and vegetable oil, as much as I like the flavour the goose fat brings to the potatoes it can be a little over-powering and it also means the potatoes don't crunch up as much as they usually do. This method was fairly successful, adding flavour and reasonably crunchy potatoes. I added some parsnips to the dish too.
We also had some savoy cabbage and used the James Martin method of sauteeing in butter and water, it worked well. The cabbage retained its bright green colour and was full of flavour.
Lastly was the gravy, most definitely Stephen's domain. He was home from his shopping trip by this time and created a thick and tasty gravy by using the juices from the pan and the shallots the beef had roasted on mixed together with some red wine, a dash of port and some beef stock.
Sadly the beef was a little over-cooked but luckily it didn't detract from the flavour too much. We both had seconds (Stephen may have had thirds actually) and ate in almost complete silence, a sure sign that we both enjoyed it 🙂
No Comments! Be The First!
Leave a Reply
You must be logged in to post a comment.