Posted By Kerri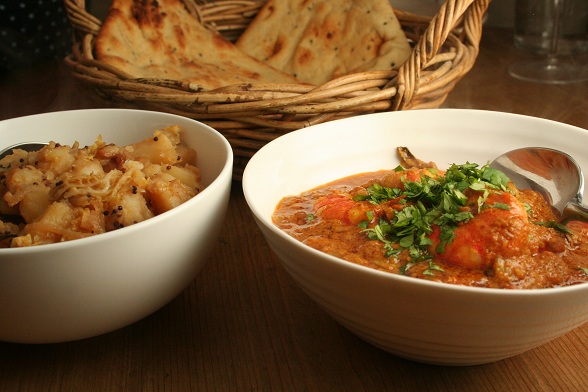 I know it's been quiet around here lately. We have been eating but it's mostly been food from the freezer and we haven't had much time for posting. We actually ate this last Monday but it was good enough that I still remember it.
I worked late and Stephen cooked this ready for my return home from the Madhur Jaffrey book. The sag aloo was improvised and was actually with cabbage instead of spinach, it worked well though. The naan bread was bought from our local Co-Op…things are definitely changing around here.
Prawns in Dark Sauce
Serves Four
75g onions, peeled and coarsely chopped
5 cloves garlic, peeled
1 inch cube ginger, peeled and coarsely chopped
3 tablespoons plus 300ml water
4 tablespoons vegetable oil
2.5cm cinammon stick
6 cardomom pods
2 bay leaves
2 teaspoons ground cumin
1 teaspoon ground coriander
175g tomatoes, peeled and finely chopped
5 tablespoons natural yoghurt
1/2 teaspoon ground turmeric
1/2 teaspoon cayenne pepper
3/4 teaspoon salt
350g peeled prawns
1/4 teaspoon garam masala2 tablespoons finely chopped coriander
Blend the onions, ginger and garlic into a paste with 3 tablespoons of water.
Put the oil into a pan and set over a medium-high heat. When hot, put in the cinnamon, cardamom pods and bay leaves and stir for 3-4 seconds. Add the paste and cook cook for 5 minutes. Add the cumin and ground coriander. Stir and fry for 30 seconds. Add the tomatoes and cook until the paste has taken on a reddish-brown colour.
Next, add 1 tablespoon of the yoghurt and cook for about 15 seconds, until incorporated into the sauce. Add all of the yoghurt this way.
Now add the turmeric and cayenne pepper and cook for 1 minute.
Add the rest of the water, the salt and the prawns. Mix and bring to the boil. Cook for five minutes until you have a thick sauce.
Sprinkle with garam masala and garnish with fresh coriander.
No Comments! Be The First!
Leave a Reply
You must be logged in to post a comment.