Posted By Kerri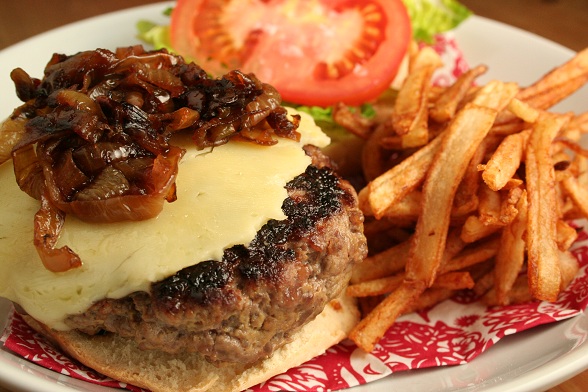 Stephen and I have been ill all week and existing on plain pasta and dry toast. While I like to think our readers are fascinated by what we eat every night, even I'm not stupid enough to think anyone is interested in looking at pictures of that, hence the lack of posts.
Knowing we were both feeling better and in need of something more interesting than just plain carbs, we decided to make hamburgers for dinner. I also wanted to see whether last week's success with hamburger buns was a one-off and test them with beef instead of pulses.
I made one batch yesterday but they were a disaster: the complication of converting the original recipe into metric and then quartering it was beyond me and I ended up using enough water for 16 buns instead of the four I was planning to make. Maths never was my strongest subject.
Luckily, I got home early enough today to start again. This effort was slightly more successful but still not as good as last week. The buns were too heavy and stuck to the (oiled) greaseproof paper meaning that they baked unevenly. The hamburgers were good though, if a little on the large side. I kept this recipe quite simple: seasoned minced beef, Dijon mustard, English mustard and Tabasco.
We also attempted to make fries which were OK but the potatoes were old and had that strange, sweet note to them. We cut them using a mandoline which meant they were slightly flat and I think we probably fried too many at once as they weren't all crunchy.
I've copied the bun recipe below (including the conversion to metric and the scaling down from 16 to four) for when I feel ready to get back to baking.
Hamburger Buns
Serves Four
1/4 tablespoon yeast
285g white flour
1 egg
70ml water (possibly a little more if the dough won't come together)
15g melted butter
15g honey
1/4 tablespoon salt
Sesame seeds
1. Combine the yeast and flour. Blend in the egg, water, buter and honey and knead to a smooth dough – this should take about seven minutes using a hand blender and a dough hook. Add the salt and knead until smooth and elastic. Cover and leave to rise in the fridge until doubled in size.
2. Divide the chilled and risen dough into four and shape into balls. Put them on a baking tray lined with oiled greaseproof paper, cover with oiled cling-film and leave to rise until doubled in size – about 30 minutes at room temperature.
3. Once risen, flatten the balls into hamburger size shapes, cover and leave to rise again – about 30 minutes at room temperature.
4. Sprinkle with sesame seeds and cook at 180 degrees for about 20 minutes, or until browned.
No Comments! Be The First!
Leave a Reply
You must be logged in to post a comment.