Posted By Kerri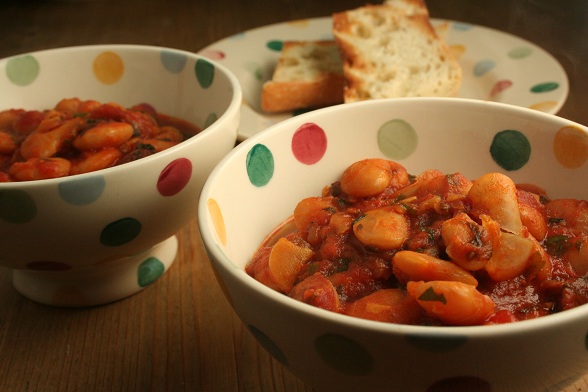 I was about to say that we've made this so many times before that I won't bother writing up the recipe but it seems that we've actually only made it once and I couldn't remember the recipe when it came to posting.
We had a change of plan on Sunday and had to make do with what we could find in the kitchen, there wasn't much to work with but this doesn't require many ingredients so we were in luck. Stephen did the majority of it since I wasn't feeling very well but I think I've got the recipe right, I'm a bit sketchy on the detail but this is a very forgiving dish: you can use any kind of beans, lots of different herbs, wine instead of sherry, pancetta instead of chorizo.
Chorizo and Cannelini Beans
Olive oil
4 small chorizo sausages, sliced
1 onion, diced
2 cloves garlic, chopped
Herbs – we used thyme and parsley but most combinations will work well
Bay leaf
Tbs paprika
Tbs tomato puree
Glass of sherry
1 tin tomatoes
cannelini beans – enough for two
Salt and pepper
Parsley, chopped
Start by browning the chorizo and removing to a plate.
In the same pan, add a little more oil and cook the onions gently until soft. Add the garlic a couple of minutes before the onions are cooked.
Next, add the herbs, the bay leaf and the paprika and cook for a couple of minutes. Add the tomato puree and cook for another couple of minutes.
Deglaze with the sherry and allow this to bubble for a minute or two. Add the chorizo back to the pan, followed by all the other ingredients and cook for 2.5 hours, or until the beans are cooked to your liking.
Season and stir through some chopped parsley.
We ate this with bread but there was loads leftover so we had it on Monday too, with rice that time.
No Comments! Be The First!
Leave a Reply
You must be logged in to post a comment.