Posted By Kerri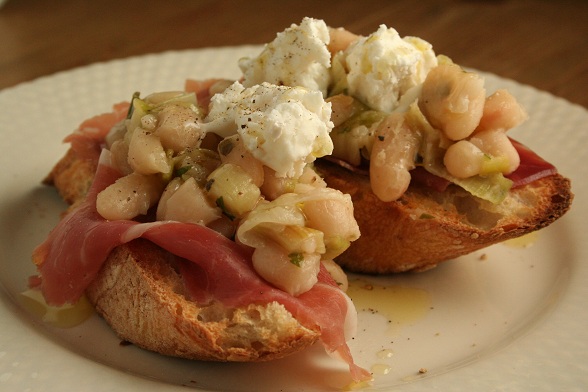 Isn't the Internet brilliant? Not only can you check the weather (which I do at least 10 times a day as soon as the clocks change) and buy shoes but you can talk to people online about a whole host of subjects. While I'm not sure how I ever lived without it, I am sure that if it wasn't for the Internet then today's dinner would have been a whole lot easier.
This was a pretty straightforward dish to put together: cook the beans, soften the onions, mix together, cook a bit more then season. Except, just as the beans were on the verge of being cooked, I got sucked into reading about the eating habits of the Amish in Pennsylvania and the whole lot were ruined. I tried to save them but the fact that the entire flat smelt like burnt hair meant they had to go in the bin and I had to start again. Another two hours of cooking time (and I hate the smell of beans cooking almost as much as I hate the smell of burnt hair) and I was ready to get on with finishing things off.
Mostly I'm glad I persevered but I think the beans lacked flavour when eaten on their own. Since we weren't planning to eat them on their own, I suppose this doesn't really matter. The sweet ham and the sharp, salty goats cheese soon sorted that out though and this made for a good, quick dinner. Well, it would have been quick if it weren't for those damn Amish folk.
Cannellini Bean Bruschetta
Serves Two, generously
250g cannellini beans
2 spring onions
2 medium leeks
1 clove garlic (2 would have been better)
Salt
Olive oil
Juice of half a lemon
Mint, finely chopped
Cook the beans until they are just becoming tender. CHECK CONTINUALLY THAT THERE IS ENOUGH WATER IN THE POT. Set aside and reserve any remaining liquid.
In a separate pan, fry the spring onions, leeks and garlic until soft.
Add the leek mixture to the beans (add more water if necessary, or in fact stock) and cook until the beans are soft – ideally for about 10 minutes but this can be difficult to judge depending on how well cooked the beans were to start with.
Remove from the heat, season, dress with olive oil, lemon juice and the chopped mint.
At this point, you could just eat them but the longer you leave them the better they will be since they will continue to suck up any remaining cooking liquid, as well as the oil and lemon juice.
We chose to eat these on top of some toasted bread which is why I've titled the post "bruschetta" but really the beans should have been squashed first. They would work well as a side dish too, served alongside some meat or fish.
No Comments! Be The First!
Leave a Reply
You must be logged in to post a comment.