Posted By Kerri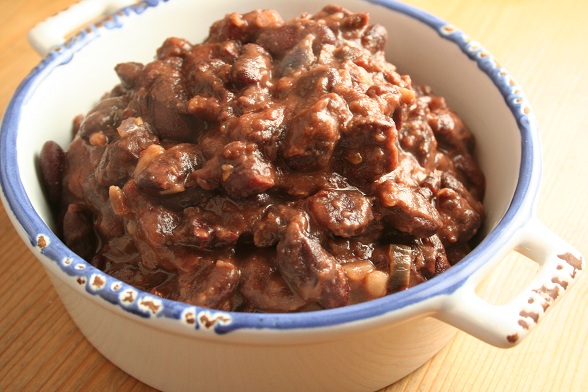 I had a plan for tonight's dinner, an idea that's been bubbling away in the back of my mind for a while waiting until I had some spare time to experiment in the kitchen. This wasn't it. Stephen still isn't feeling well and requested a plain, baked potato for dinner. I thought about going ahead with my plan anyway but decided to save it for when he's feeling better and join him in the baked potato. I didn't want mine plain though so made up a batch of beans to go with it and some to squirrel away in the freezer for use at a later date.
This isn't really my recipe and is based on the Mexican bean dish we often cook from the strange little Mexican book neither of us know the origin of. There's a lot of timer-setting and toing-and-froing to the kitchen with that recipe though so I simplified it today and found little, if any, difference to the original.
These beans are looser than I would normally cook them, I cooked them that way because I knew I'd be eating them with a potato. I would reduce the water if these were accompanying something wet or being used in wraps.
Mexican Beans
Serves six to eight (as a side dish)
350g beans
Water (it's really hard to say how much, I added a couple of pints to begin with and kept topping the levels up as they cooked)
8 small chorizo sausages, sliced
2 onions, finely chopped
4 cloves garlic, crushed
2 red chillies, chopped
2 bay leaves
1 tbsp paprika
2 tsps oregano
4 tomatoes, chopped
Add the beans to a large pot and cover with plenty of water. Add half the onion and half the garlic, all the chilli and the bay leaves and bring to the boil. Boil hard for 10 minutes then reduce the heat to a simmer and cook the beans for 1.5 hours or until they are cooked (remember to keep an eye on the water level and top up the water if necessary, by the time they are cooked through you want there to be very little liquid remaining which can mean adding water a little at a time). Season with salt and then turn off the heat.
In a frying pan, fry the remaining onion and garlic in some oil until soft. Add the paprika and oregano and stir to incorporate. Add the chopped tomatoes and cook for another couple of minutes.
Take three tablespoons of the beans and add to the frying pan with the onions, garlic, etc. Mash the beans to a paste and then transfer the contents of the frying pan to the reserved beans. Stir, heat through if necessary and then serve.
If using chorizo, brown and remove from the frying pan before cooking the onions and then return to the beans with the contents of the frying pan.
No Comments! Be The First!
Leave a Reply
You must be logged in to post a comment.