Posted By Stephen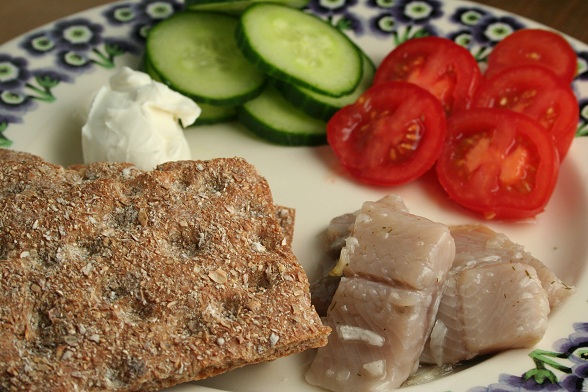 Kerri was out this evening, so it fell to me to organise dinner for myself. Ever since we got back from our recent holiday to Sweden, this situation has resulted in my eating marinated herring. Which happened again this time too!
I found this herring in dill marinade in Waitrose, produced by Elsinore. It is apparently Danish but tastes very close to the Swedish style. Probably all the dill. Anyway, I had this with some crisp bread (which we bought from a Scandinavian shop in London a while back and is not actually very crisp any more), some cream cheese and some sliced tomatoes and cucumber.
Simple, but I found it rather delicious and had to stop myself just eating the herring from the jar with a fork. The cream cheese mellows the sourness of the marinade and the cucumber and tomatoes freshen it up, with the crisp bread giving it a bit of crunch. Good combination.
No Comments! Be The First!
Leave a Reply
You must be logged in to post a comment.