Posted By Kerri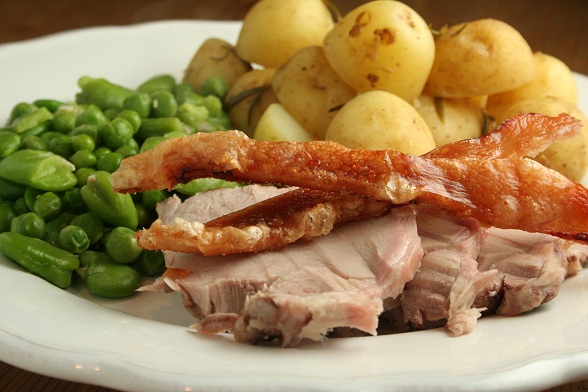 We went to Tendido Cuatro for dinner on Friday night (camera battery was flat so no pictures) and, although the last time we went we vowed to return for the paella, we ended up eating tapas again. The couple on the table next to us had the paella though and it looked and smelt brilliant so we will definitely be going back soon.
Although we tried to branch out this time and try some new dishes, we ended up eating a lot of similar things to last time as we had enjoyed them so much (the lamb chops with padron peppers were as good as last time, the tuna was still amazing but the jamon was still sliced a bit too thickly). We did order the steak and rosemary potatoes this time though and while the steak wasn't particularly interesting, the rosemary potatoes were brilliant. Tiny, perfectly round little potatoes that were full of intense rosemary flavour.
Wanting something lighter to eat today following yesterday's flavour overload, we decided to roast a loin of pork and attempt similar potatoes ourselves. We didn't know how they were cooked but they seemed similar to boulangere or fondant potatoes so we attempted something in-between the two. We used whole and halved new potatoes, so they were not as small as the ones that we had on Friday night. They also didn't absorb so much rosemary flavour when cooked in chicken stock with rosemary in it – we're thinking that they probably doused them in rosemary butter to give them that flavour.
Either way, they were still tasty, as were the broad beans and peas cooked with mint and annointed with lemon. The pork itself was simply roasted, then the crackling removed and roasted on its own at a higher temperature for a bit longer to crisp it up, which worked very well. Very crunchy crackling. The pork itself was tasty but not particularly adventurous as we hadn't added much in the way of flavourings to it, but it went well with the potatoes, peas, beans and gravy.
All in all, a satisfying Sunday meal and it gives us some left over pork to try something with tomorrow.
No Comments! Be The First!
Leave a Reply
You must be logged in to post a comment.