Posted By Kerri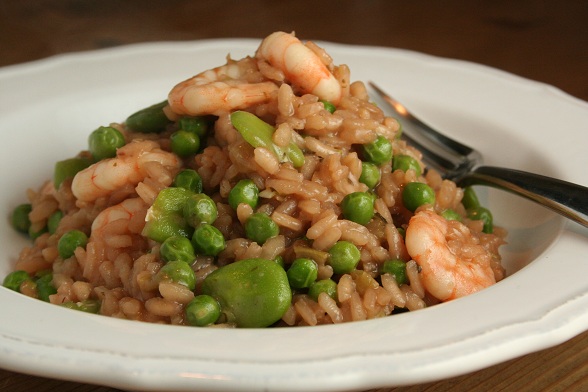 I really wanted to make pea and prawn pasta this evening because I liked the way it alliterated but, when it came to it, risotto was a much better idea. The barbecued octopus we cooked earlier in the summer generated rather a lot of leftover stock which has been waiting patiently in the freezer until we came up with something to do with it. The obvious answer was risotto and, being short on both time and imagination at the moment, obvious was about all we could cope with.
Obvious it may have been but it certainly wasn't ordinary. When we've cooked fishy risottos before, we've mostly used chicken or vegetable stock which work pretty well, especially if they are fresh, but this homemade stock added so much flavour that we didn't really need the prawns. They did add another texture to the dish though and lifted the colour from a sludgy brown to something more interesting. And, well, they taste good too.
Stephen cooked this while I was on my way home from work and he tells me that he found an unlabelled bag of what he thought was risotto rice in the cupboard which he added to the dregs of risotto rice that were in the correctly labelled risotto rice jar. On cooking the rice, he believes this was actually paella rice which meant that the finished dish didn't have quite the same sticky, gluttinous texture that risotto is all about. I'm not entirely sure I believe him since jarring and labelling afore-mentioned jars are one of my favourite past-times (I know, evenings with me are a blast) and I can't believe I would have overlooked this but he might have been right about the texture. I can't be sure though since I was far too busy inventorying the store-cupboard to pay much attention to what I was eating.
No Comments! Be The First!
Leave a Reply
You must be logged in to post a comment.