Posted By Kerri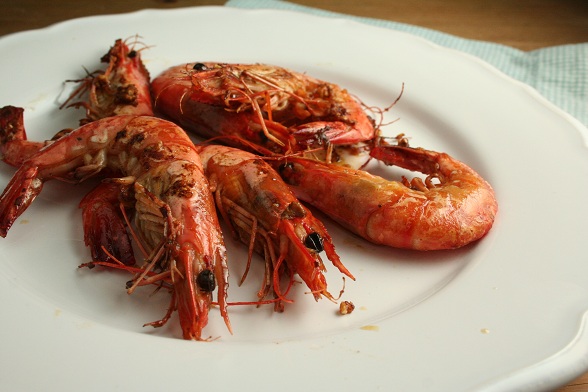 Fish Friday isn't a regular occurence in our house. If I'm honest (and I'm getting this in quickly while my mum is without Internet access) it tends to be more about Fizz on a Friday in our house. Don't worry, we didn't go thirsty and there was indeed sparkling wine but Stephen also went to a huge amount of effort to cook all this food after a long and miserable week for which I was very grateful.
We started with prawns which were cooked simply in garlic butter and which we ate with some really good wholemeal bread. Prawns used to be one of my favourite foods but for reasons I'm sure you can work out yourself and don't need me to go into any detail on a food blog, I went off them for a while. These reminded me of why I used to love them so much though since they were beautifully sweet and cooked to just the right level of doneness.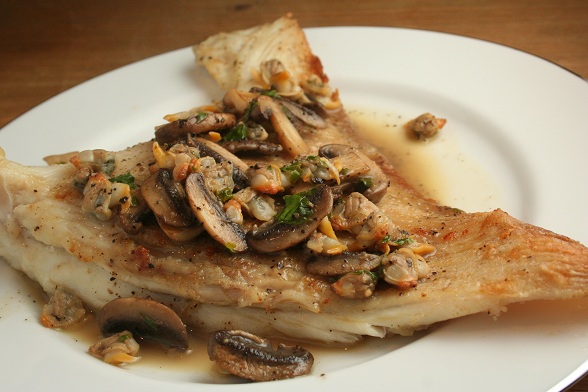 The prawns were followed by ray with cockles and chestnut mushrooms inspired by a Mark Hix recipe for ray with periwinkles and ceps from his British Seasonal Food book. The ray wings were huge and neither of us managed to finish them but they were delicious nonetheless. I find the combination of fish and mushrooms slighty challenging. I'm not sure why, maybe it's the texture, but the flavours certainly worked well especially since the ray has a sweetness that is balanced by the woody mushrooms. We ate this with some crushed potatoes and purple sprouting brocolli which were good but largely ignored due to the enormousness of the fish.
Happy Friday!
No Comments! Be The First!
Leave a Reply
You must be logged in to post a comment.