Posted By Kerri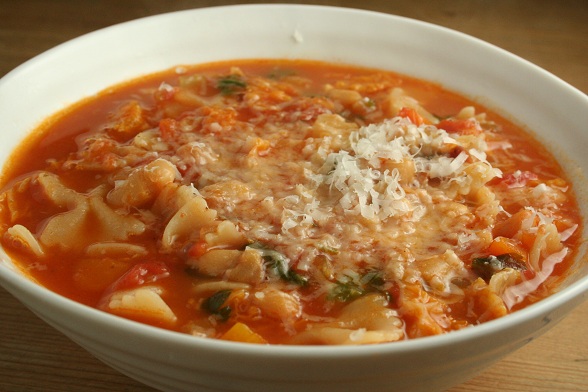 We had half a cabbage left over from the weekend and I didn't know what to do with it. I did a quick search through the archives and came across this minestrone soup recipe we cooked earlier in the summer which included the comment: "Most of the recipes I found used cabbage which I'm sure is lovely in winter but it made more sense to use some summer vegetables this time". While it's not quite winter yet, it was an ideal way to use up the cabbage so I started cooking it last night. The beans took forever to cook though so we had to finish it this evening but that worked out well since it gave the flavours time to develop overnight.
This version was much more liquid than last time and probably had too much pasta in it but it suited us both, I got to eat more pasta while Stephen ate more soup. The leftovers, minus the liquid, and with some added cheese made a good lunch the next day too.
No Comments! Be The First!
Leave a Reply
You must be logged in to post a comment.