Posted By Kerri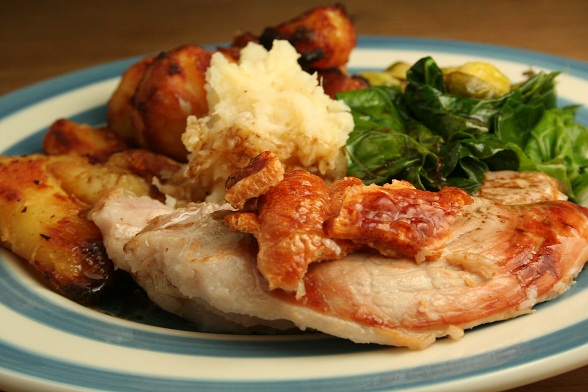 Is there a patron saint of cooking? I'm not sure and Google was inconclusive. If there is such a thing and indeed, if I believed in such things, then I imagine she (it's got to be a she, right?) was looking down on us this weekend. After not spending much time in the kitchen recently, we managed to produce the third really good meal in as many days. I don't think we did anything drastically differently today and yes, I know roast pork isn't all that difficult but for whatever reason, everything seemed to work brilliantly this time.
The meat (from Waitrose) had lots of flavour and remained juicy with super-crackly crackling. Having said I didn't do anything differently, I did remember to cook the meat on the highest setting for the first 30 minutes before turning the oven down to 180 degrees which I don't always remember to do. The potatoes and parsnips were crisp with lots of crunchy edges and fluffy insides (vegetable oil only today instead of a combination of vegetable and olive) and the vegetables were fresh and just interesting enough to compliment the meat without taking over (a dash of fennel seeds in the garlicky greens helped this). Oh, and that's mashed celeriac in the middle which was wonderfully creamy and smooth.
I had planned to make stuffing but forgot so I guess that patron saint might have got distracted but otherwise, a glorious end to a brilliant weekend.
No Comments! Be The First!
Leave a Reply
You must be logged in to post a comment.