Posted By Kerri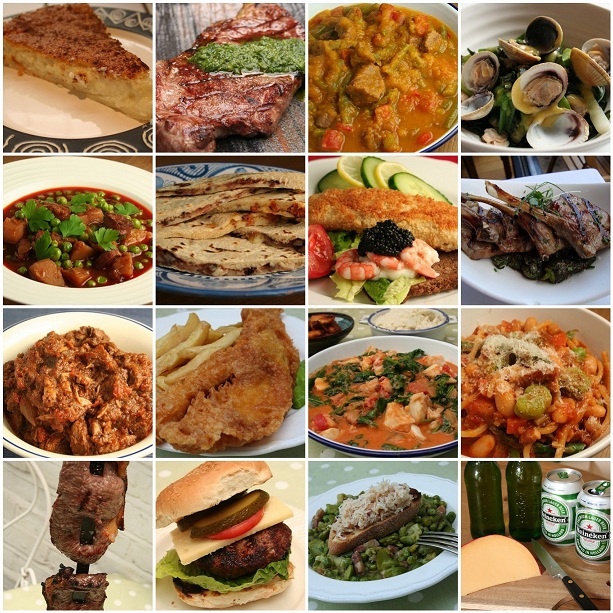 So, apart from cheating today and buying beer and cheese to represent Holland, we did a pretty good job of exploring some new cuisnes and finding some new favourite dishes.
We started with South Africa and cooked every Saffer's favourite, the milk tart. I ate a lot of this while I was there but have never thought to cook it myself. It's really just a baked custard and is very easy to make yet still impessive enough to serve to guests. We took it to a barbecue and it was well received. Definitely one for the make-again-soon list.
There was a lot of steak, all of which was good, as steak generally is. Stephen's improvisation with the steel strip from the hardware shop in place of a long skewer was genius though. I'm not sure if we'll employ that technique again but it made a good talking point and it might be useful in the future if we ever get a bigger barbecue.
Other highlights were the Japanese clams, just like moules marinere but with Japanese flavourings and the minestrone soup for Italy. I've been meaning to make that for years but never got round to it, this gave me the push I needed and has become a real favourite – we're having it for lunches this week. The Greek stiffado was another revelation, for it's sheer simplicity and big flavour delivery. Probably more suited to the colder weather but it's something to look forward to in the winter.
The Spanish entry gave us a good excuse to visit a local restaurant instead of just ordering from foodora again and meant we found a new favourite place to eat tapas. Although we didn't actually cook anything ourselves, this was still a good discovery which was part of the point of the exercise.
Now it's over, I feel a bit lost. While it was a little difficult eating tastless Ghanian stew while my favourite peas and broad beans where appearing, it gave us a good focus to our meal planning and forced us to try dishes we weren't familiar with. A success I would say, something many people would have liked to say about Fabio's contribution to this year's world cup.
No Comments! Be The First!
Leave a Reply
You must be logged in to post a comment.