Posted By Kerri
In an attempt to atone for the over-indulgence of the pie and the casserole I ate this weekend, for lunch I had a smoked salmon sandwich. I made it myself (I'm not a fan of pre-packaged sandwiches), the bread was Vogel's sunflower and barley (my favourite), the salmon was Scottish oak-smoked from Marks and Spencer and the cream cheese (also from Marks and Spencer) was low-fat and organic. I also had a glass of water :healthy: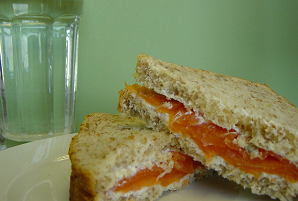 No Comments! Be The First!
Leave a Reply
You must be logged in to post a comment.