Posted By Stephen
Lincolnshire sausages with lots of sage. Mashed potatoes that turned out pleasingly well as it was made from emergency-bought potatoes. Onion gravy made with onions that caught ever so slightly and went just the right colour of brown to match their rich flavour. And the pièce de résistance: Puy lentils cooked with onions, lardons, garlic and loads of red wine which tasted brilliant despite their greyish-purple tinge.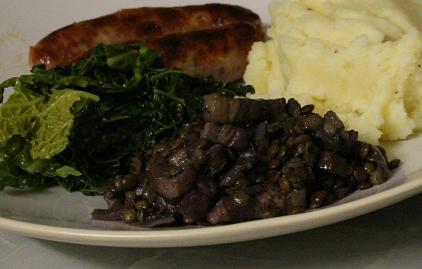 No Comments! Be The First!
Leave a Reply
You must be logged in to post a comment.