Posted By Kerri
Did I mention that we got a cabbage in our vegetable box again this week? For the fourth week in a row. I used to like cabbage. Maybe I'll like it again one day but, at the moment, it's up there with spinach as of my least favourite vegetables (I used to like spinach too until we had it three times in a row).
Anyway, we used up some of it last night in the Chorizo and Cabbage and today, I found a recipe on the Abel and Cole website that sounded promising….Chicken and Braised Cabbage. So that's what I did. It was ok and actually, with a little tweaking, I think it could be good (it's got bacon in it, of course it can be good) but today it was just ok.
Fry the bacon with some thyme, add the cabbage, sweat for a while, add chicken stock and serve with grilled chicken. Part of the problem was that the flavours didn't seem to combine well, I think this is because the chicken is cooked seperately. If (and it's a big if, because I've marked cabbage with a sad face on the vegetable box website so we don't get it again any time soon) I do it again, I would fry off the chicken with the bacon and add some onion.
Here it is anyway, I've really sold it to you haven't I?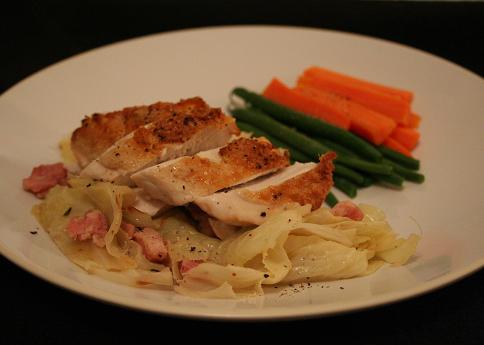 No Comments! Be The First!
Leave a Reply
You must be logged in to post a comment.