Posted By Kerri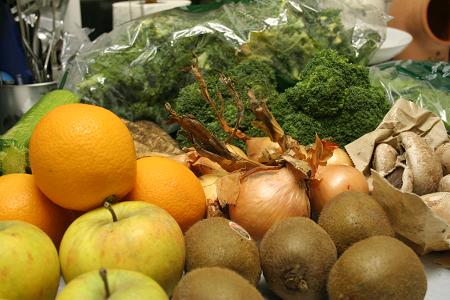 PARSNIPS!!!!!!!!!!!!! – very exciting, I love parsnips and they'll go well with the pork belly we're planning this weekend
Curly kale – mmmmm, will also go well with the pork
Spinach – second hated (after cabbage), Stephen likes it though so hopefully he'll be looking like Popeye at the end of the week 🙂
Brocolli – I quite like it but this isn't a particularly good example, it's soft already and a bit brown…brocolli and stilton soup maybe?
Courgettes – good for roasting, we haven't had those for a while 😉
Onions – useful as we've run out (only because I cancelled them two weeks in a row though)
Mushroommmmmmmmmmmmmms – weekend breakfast
Oranges – these smell really orangey
Apples – cox I think, these are a bit soft though, might have to become a pie
Kiwi fruit – can't be bothered with the seeds
So, all in all, not a bad haul. I cancelled cabbage, carrots and potatoes this week because we've been over-run with them lately. No bananas though, think this is the first time ever; Stephen won't be happy.
No Comments! Be The First!
Leave a Reply
You must be logged in to post a comment.