Posted By Kerri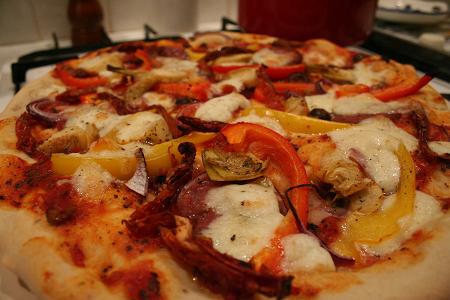 Friday night….good TV, fine wine and homemade pizza.
Like last time, we made this with the (alledged) Pizza Express recipe. I think we'll have to find a new recipe though, this one doesn't behave all that well. Neither of us are that experienced with dough though so it could just be our lack of understanding.
After all the resting and kneading, we placed it on the pizza stone, topped it with some tomato sauce (normally we make our own, this time we used a jar of Waitrose bruschetta topping, it was much better) red and yellow peppers, sundried tomatoes, artichokes, spicy sausage and cheese and cooked it at 200 for about 15 minutes, just until the cheese melted really. It was brilliant.
G
No Comments! Be The First!
Leave a Reply
You must be logged in to post a comment.