Posted By Stephen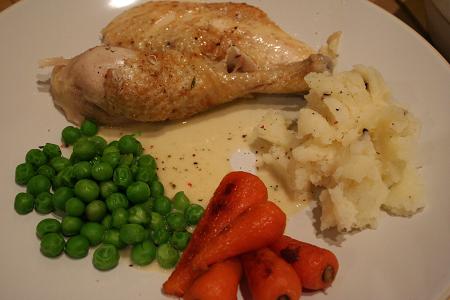 Yesterday we decided that today we would spend the whole day indoors and cook pot-roasted chicken. Which we did. First we browned the chicken and then sweated onions, celery, carrots and leeks. Then the chicken went back into the pot with the vegetables and thyme, bay, cloves and peppercorns. We added half a bottle of white wine and some water and chicken stock to just cover the chicken, then brought it to the boil and put it into the oven for an hour.
Once the chicken was cooked, we let it rest while we reduced some of the stock, then added lemon juice and cream and reduced some more. The result was really good. The chicken was tasty and tender while retaining some bite. The sauce was nicely balanced between lemony, chickeny and creamy. We had it with some mashed potatoes, peas and an attempt at Vichy carrots. Top marks for the chicken, sauce and the mash; the vegetables could have done with a bit of work though.
We drank a South African sauvignon blanc with it as that's what we had open, but it would have been matched really well with a good white Burgundy.
While doing this, we also cooked moussaka for tomorrow. We'll have to wait to see how it turned out.
F
No Comments! Be The First!
Leave a Reply
You must be logged in to post a comment.