Posted By Stephen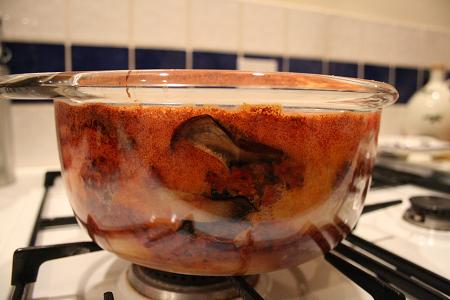 Mmm this turned out really well; the picture doesn't really do it justice.
Kerri has written out the partially home-grown, partially looked-up recipe that we used:
500g lamb mince
Onion
3 gloves garlic
Red wine
Vegetable stock
Large tin of tomatoes
Mint
Oregano
Cinnamon
Bay
Salt and pepper
Fry onions and garlic until translucent. Add lamb, turn up heat and fry until cooked.
Add red wine, stock and tinned tomatoes and cook at full heat for about five minutes.
Turn down heat and add dry ingredients.
Simmer for 45 minutes.
Layer with cooked, sliced potatoes and grilled aubergines.
Top with cheese sauce (add two egg yolks to cooked cheese sauce, fold in beaten egg whites).
Add parmesan cheese and bake for 45 minutes.
No Comments! Be The First!
Leave a Reply
You must be logged in to post a comment.