Posted By Kerri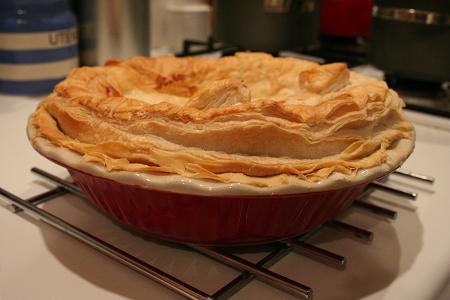 This started off in our heads as a casserole but, somewhere along the line, became a pie, and a tasty pie at that.
We started off by browning the chicken and removing it from the pan, next we softened some onion, garlic, celery and carrot. Then we threw in the mushrooms (chestnut, white and another strange type that Stephen can't remember the name of) and the peeled and halved Jerusalem artichokes. When this was all cooked down, we added some chicken stock, salt and pepper, bay and thyme and cooked it for about an hour – basically, until the majority of the liquid had disipated.
We then put it in a pie dish (the new red one, isn't it pretty?), added a puff pastry lid (and some decorative hearts as it is almost Valentine's Day) and baked it in the oven for about half an hour.
We served it with winter greens and peas.
No Comments! Be The First!
Leave a Reply
You must be logged in to post a comment.