Posted By Kerri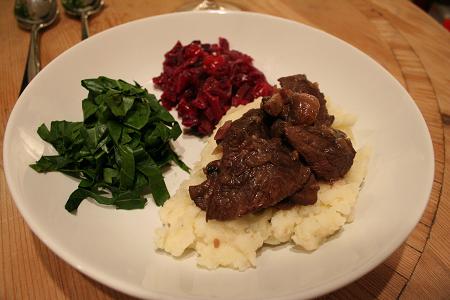 We'd been talking about cooking venison for a while, so today we did. We cooked it in a casserole with bacon, onions, mushrooms and red wine and ate it with mashed potato, winter greens and red cabbage. The casserole turned out rather well – the meat was tender with a typically venisonny (is that a word?) flavour and texture to it and the sauce had a good depth of flavour. The red cabbage on the other hand was rather too tart to eat much of – it was cooked with juniper berries, apple juice and cranberries. We left most of it behind.
F
No Comments! Be The First!
Leave a Reply
You must be logged in to post a comment.