Posted By Stephen
On Friday night we decided to have something easy to prepare for dinner. We had various nibbly bits and then had a selection of four cheeses, each individually selected from Neal's Yard Dairy.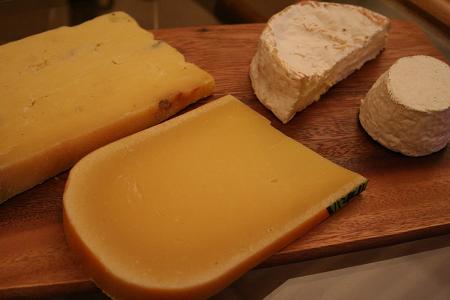 Clockwise, from the bottom round… Coolea (full in the mouth, slightly nutty aftertaste, very good indeed), Keen's Cheddar (very sharp; I think this was a bit past it), Tunworth (an unpasteurised cows' milk cheese, a bit camembert-like, very good) and Chabis (goats' milk, an interesting cross between chalky and creamy, but not as fully flavoured as one that we've had recently; probably needs a bit more time to mature).
F
No Comments! Be The First!
Leave a Reply
You must be logged in to post a comment.