Posted By Kerri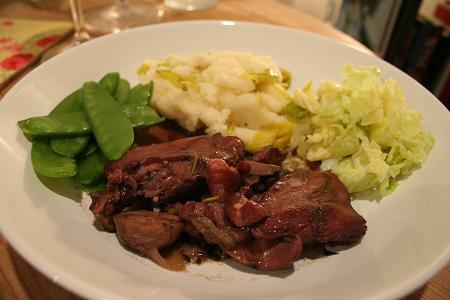 Yesterday, we bought a pheasant at our local butcher with the intention of cooking it today. After considering a few pheasant-related recipes, we decided to make something up and do a "pheasant au vin". I'm glad that we did because it was really, really good. Joined the pheasant, then marinated it in some red wine for a few hours. Then browned the pheasant pieces, fried lardons, shallots and garlic. Then added the wine in which the pheasant had been marinating, plus a little more wine, some sage and thyme and then enough beef stock to just cover all the ingredients. Brought it to boiling point, then put it into the oven for an hour. Served with leeky mash, cabbage and mange tout.
No Comments! Be The First!
Leave a Reply
You must be logged in to post a comment.