Posted By Kerri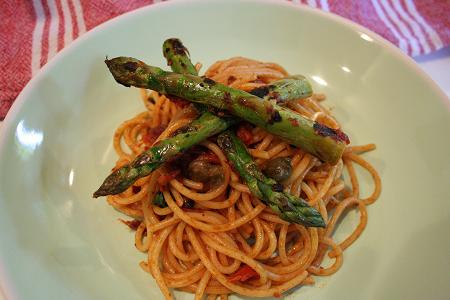 I couldn't decide what to eat this evening but after the success of last night's pasta, I thought I'd try something similar with asparagus. I love asparagus and am determined to eat as much of it as possible while it's in season. I usually just have it with butter or parma ham so was keen to see what it would be like incorporated into a dish.
Sadly, it didn't work out. I used similar ingredients to last night: garlic, basil, chilli, anchovies, capers, cherry tomatoes and tomato puree then threw the asparagus in towards the end. They just didn't cook though and the sauce started to catch.
I think it could work, perhaps if the asparagus was griddled seperately and then added at the very end. I've just realised I forgot the parmesan too which probably didn't help.
I did get to eat from my new green bowl though which I bought purely because I thought it would look nice with the asparagus 🙂
No Comments! Be The First!
Leave a Reply
You must be logged in to post a comment.