Posted By Kerri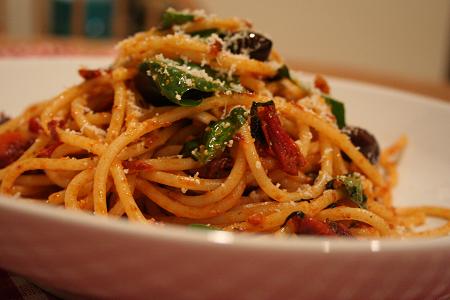 Or Tart's Spaghetti. Or Pasta Puttanesca.
I've never made this before, I've no idea why as I love pasta and all the ingredients contained within this dish. Stephen was out tonight so I thought I'd give it a try and I am so glad I did. This is officially my New Favourite Thing. It's so quick to make, uses mostly store-cupboard ingredients and, best of all, is one of the tastiest things I've eaten for a very long time.
The anchovies and capers add a real richness which is balanced by the freshness of the basil, the chilli adding a further intensity and heat. It had an almost meaty taste and texture. I absolutely loved it.
I cooked too much pasta (surprise, surprise) but it didn't matter as there was plenty of delicous sauce to coat it. It was a struggle to stop eating.
Stephen is out again tomorrow night, I may well be eating this again!
No Comments! Be The First!
Leave a Reply
You must be logged in to post a comment.