Posted By Kerri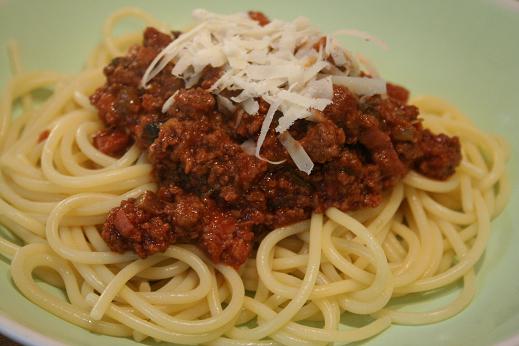 Stephen and I read the same novel while on holiday (Mark Haddon's "A Spot of Bother", very funny) and there were a couple of mentions of spaghetti bolognaise which led us both to crave it. This used to be something I ate on an almost weekly basis, particularly when I was a student, but neither Stephen nor I have had it for ages.
I spent most of Sunday afternoon cooking the sauce, which we ate tonight. I added some milk which I've done the last couple of times I've made it, and let it simmer for two hours. I think this really makes a difference to the texture of the sauce. It becomes softer and almost melty. The other ingredients are pretty standard, onion, garlic, celery, bacon, minced beef, red wine, passata (I don't like the chunky pieces of tomato or the skin in tinned tomatoes), sundried tomato paste, loads of herbs, salt and pepper, nutmeg and some worcester sauce.
We served it in the non-traditional way, a pile of spaghetti with a heap of sauce on the top, but as Stephen pointed out most Italian recipe books say this doesn't exist in Italy so I don't think it matters too much.
G
No Comments! Be The First!
Leave a Reply
You must be logged in to post a comment.