Posted By Stephen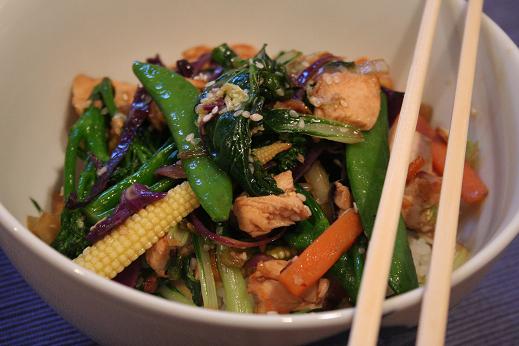 We had a fair amount of left over chicken from last night to use up, so we decided on a stir fry.  To the chicken we added two cloves of garlic, some ginger (dried unfortunately; we didn't have any fresh), a sauce mixture (soy sauce, oyster sauce, rice wine, sesame oil and sesame seeds) and a Marks & Spencer bag of stir fry vegetable mix (carrots, snow peas, baby corn, spring onions, brocolli, pak choi and spinach).  Normally I'm not a fan of M&S pre-prepared bags of things as they tend to be rather prescriptive, but this one worked a treat and the result was a rather good approximation.  A handful of bean sprouts and a few mushrooms would have made it perfect though.
No Comments! Be The First!
Leave a Reply
You must be logged in to post a comment.