Posted By Stephen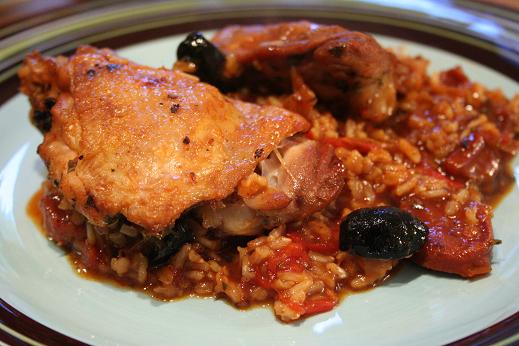 Today was really rainy and evil and nasty. We went out for lunch and were completely drenched going three blocks to the pub even though we had umbrellas. (Tip: If you have wet socks in the office, hang them behind your PC to get dry; the outflow from the fan is quite warm and will have them dry quite quickly). So we fancied something hearty for dinner to get the chill out of our bones when we got home.
We decided on Chicken Basque. A Spanish (Basque) recipe that includes chicken, chorizo, paprika, onions, garlic, olives, red pepper, sundried tomatoes, herbs and rice. Started on the hob and then into the oven. The rice hadn't quite cooked correctly (maybe we had the wrong type), so we put it back onto the hob to finish it off.
When eventually served up, it was really good. Deep flavours of paprika, olives and chicken melded with all the other flavours. Kerri said it could really quickly become one of her favourite dishes.
With it, we had a Spanish wine – Gaba do Xil – which tasted somewhat of marzipan and peaches. Slightly sweeter than I usually like, but good deep flavours and it matched the deep flavours of the Chicken Basque very well.
No Comments! Be The First!
Leave a Reply
You must be logged in to post a comment.