Posted By Kerri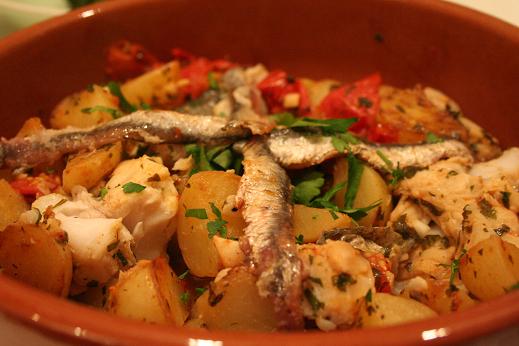 While looking through my "things to cook soon" file yesterday I came across this "speedy fish and potato dish" that I'd clipped from Prima magazine. I don't recall ever buying a copy of Prima magazine so I have no real idea where or when I clipped this but it sounded like it was worth trying.
Fry some potatoes, add some parsley and garlic, add tomatoes, deglaze with wine, add fish then put the lid on and cook for 10 minutes. When I came to actually cooking it tonight it looked too simple and I was worried there would be no depth of flavour. I cooked the potatoes for 10 minutes and they were brown (as the recipe said) but rock hard which worried me again. I persisted though (with some encouragement from Stephen) and continued to follow the recipe. I'm glad I did because it worked like a dream.
The end result was a rich, tasty dish that was cooked perfectly and full of flavour. The best thing about it was that the whole thing took about 20 minutes which is perfect for a mid-week dinner. Did you hear that Mum, it can be done!
We served this with our usual brocolli but any green vegetable would work. I think next time I'd use more fish and possibly more tomatoes. The variations could be endless though, peppers would be brilliant, olives, almonds, capers would all work. I think you could adapt it to use chicken too if you wanted.
Thank you Prima magazine!
No Comments! Be The First!
Leave a Reply
You must be logged in to post a comment.