Posted By Stephen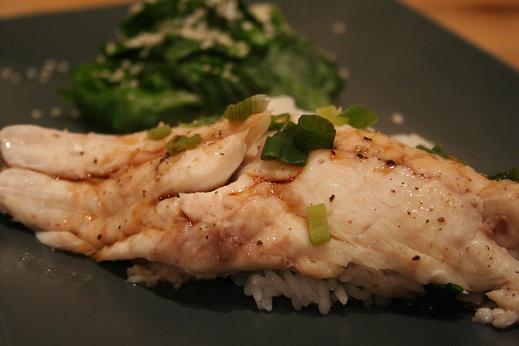 After recent attempts at Japanese cooking, we tried again. This time, we tried sake-steamed sea bass with ginger. I've been getting used to going to our fishmonger, buying a whole fish and proudly heading home with it as if I'd caught it myself, then barbecuing or roasting it whole. I bought a whole sea bass again, and when I got home realised it needed to be filleted. So I attempted filleting it and did a passable job, but it took ages; clearly a reasonable excuse to buy a proper filleting knife.
Anyway, once it was filleted it needed to be steamed. We steamed it over a mixture of sake, fish stock (the recipe called for clam juice but we didn't have any), ginger and garlic. Before steaming the fish, we seasoned it with salt and pepper and sprinkled it with chopped spring onions and soy sauce.
It was done in five minutes and we served it with rice and greens. It turned out rather well; just cooked to the point of being done and lightly flavoured with all the aromatics in the steamer yet still robust enough to stand up to being drizzled with more soy sauce. Definitely something to try again.
PS With this we drank an Australian verdelho which went well with the fishy, savoury flavours.
No Comments! Be The First!
Leave a Reply
You must be logged in to post a comment.