Posted By Kerri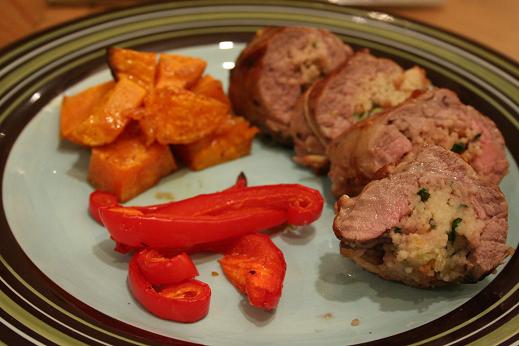 I was out after work this evening so Stephen was in charge of dinner. I got home to the smell of something sweet and roasty which turned out to be roasted sweet potato. This was the accompaniment to some brilliant stuffed lamb fillets which he served with roasted red pepper and, of course, the sweet potato. The lamb was stuffed with cous-cous which had been flavoured with garlic, spring onions, nutmeg, chicken stock, pine nuts, mint and parsley. It was sealed on the hob after being filled with the cous-cous and then roasted in the oven for about twenty minutes.
It was a brilliantly thought out dish which combined the sweetness of the lamb with the sweet potato and the aromatic and nutty cous-cous. If this is the result when I leave Stephen to his own devices in the kitchen then I think I should go out more often and leave him to cook 🙂
No Comments! Be The First!
Leave a Reply
You must be logged in to post a comment.