Posted By Stephen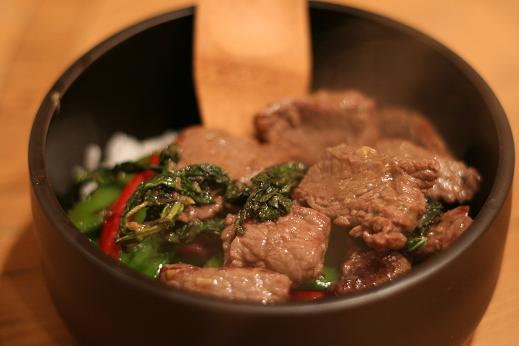 Back on Tuesday last week, we cooked Beef, Chilli and Basil Stir Fry. We ended up being really busy and/or disorganised for the next few days so never got around to posting about it. Until now.
When we'd tried stir frying with basil before, we used sweet basil (i.e. the usual European variety). Having been to Chinatown over the weekend, I'd bought a bunch of holy basil which we used this time. Holy basil is unlike sweet basil in that it doesn't taste or smell like much until it's cooked, and when cooked it becomes wonderfully fragrant.
We followed a traditional Thai recipe for stir fried beef with chilli and basil, which goes something like this: Pound a birds chilli with two gloves of garlic, then stir fry this for a minute. Add half a pound of thinly sliced beef and stir fry for a few minutes. Add a tablespoon or so each of fish sauce and soy sauce, along with half a cup of holy basil. Stir fry for a few more minutes and it's done.
We served this with jasmine rice and also had a side dish of traditional stir fried vegetables. The beef turned out really brilliantly and we'll definitely be having it (or a variation on it) again soon. The recipe can be changed to use chicken or prawns too, which makes it quite versatile.
No Comments! Be The First!
Leave a Reply
You must be logged in to post a comment.