Posted By Kerri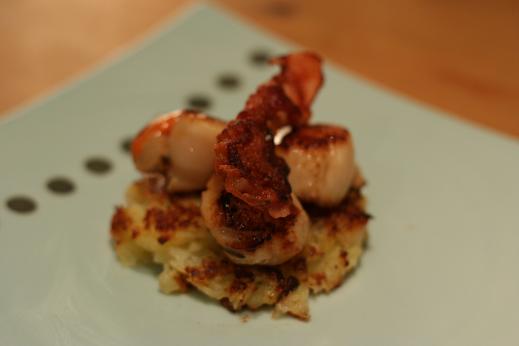 Does that win the prize for longest-ever-blog-post-title?
We had some Jerusalem artichokes languishing in the fridge, Stephen had picked them up to go with the lamb on Sunday but we forgot them. We weren't sure what to do with them but a quick search threw up lots of options for pairing them with scallops, never a bad thing because we both love scallops.
We both think of them as being similar to parsnips and potatoes in texture so it seemed sensible to make rosti out of them; scallops and pancetta is a classic combination so that's what we did.
I overcooked the artichokes in the beginning so grating them proved quite tricky, I got there in the end though (and managed to keep my nails intact) and produced two reasonably sized rosti cakes. Stephen fried them off when he got home, along with the scallops and pancetta and we served them with some buttery Savoy cabbage.
The flavours all worked well together and we both enjoyed it, I think my comment about it making a good starter was telling though as there wasn't nearly enough food and I've just caught Stephen at the pinenuts again.
No Comments! Be The First!
Leave a Reply
You must be logged in to post a comment.