Posted By Kerri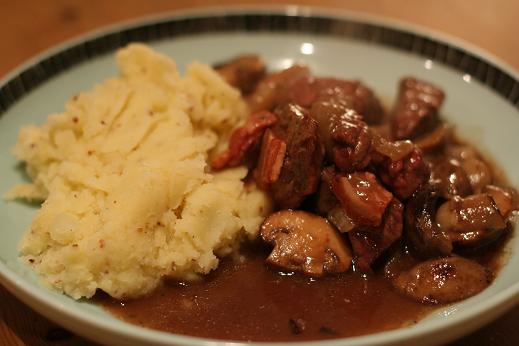 Neither Stephen nor I were at work yesterday so we took the opportunity to cook something slow. We chose a beef dish from Hugh Fearnley-Whittingstall's Meat book which used stewing beef and Guinness. Recipe below serves 8-10 which we obviously scaled back.
1.5kg stewing beef
250g bacon
50g butter
500g onions
50g seasoned flour
1 litre stout
2 bay leaves
Thyme
Parsley stalks
250g button mushrooms
250g flat mushrooms
Salt and pepper
Brown the bacon and onions and remove from the pan.
Brown the beef and add the bacon and onions back to the pan.
Add the stout to deglaze.
Add the herbs and salt and pepper, bring to the boil.
Cook for 2.5 hours adding the cooked mushrooms an hour before the end.
Serve with mashed potatoes.
We both enjoyed the dish and appreciated the amount of flavour that came from such few ingredients and such a simple cooking process.
No Comments! Be The First!
Leave a Reply
You must be logged in to post a comment.