Posted By Stephen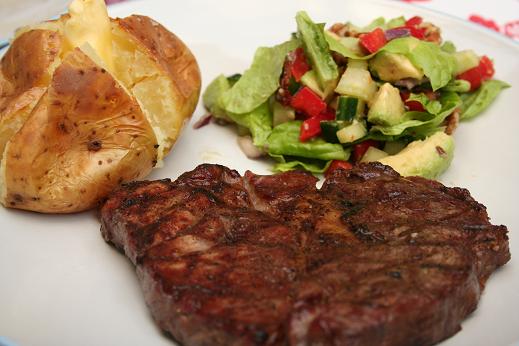 With the weather promising to be sunny and warm today, we were off to a good start. Periodically, evil clouds would float across the sky, but luckily only obscured the sun for short periods and it was still warm in the late afternoon. Kerri had been home and put potatoes into the oven to bake before I got home, as well as having made salad, so the only thing left to do was to make a fire and cook steak.
Which didn't take long. They were ribeye steaks, which have been our favourite for a while now and even though we left them on for a little longer than planned, they were still very succulent and full of flavour. Simply done seasoned with salt and pepper immediately before cooking, then cooked for a few minutes on each side and then rested, they were perfect. The baked potatoes were brilliant, with crispy skin and light, fluffy insides. Mmmmm steak! Mmmmm baked potato!
No Comments! Be The First!
Leave a Reply
You must be logged in to post a comment.