Posted By Kerri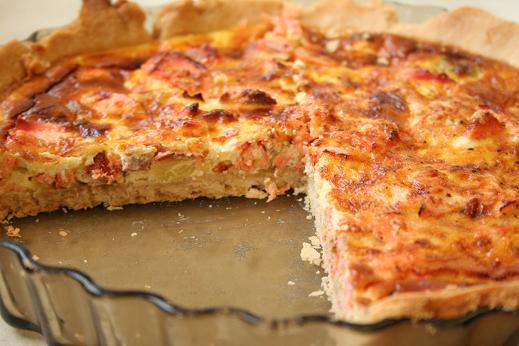 It was my niece's second birthday party yesterday afternoon. We knew there would be lots of tasty party food on offer so, in order to avoid overdosing on chocolate Fingers and fairy cakes, we thought we would eat a reasonable sized lunch before we went.
We used ready-made pastry again as we still haven't summoned the courage to make our own but the rest of the recipe was our own creation.
Simply sweat a couple of leeks until they are soft and poach a piece of salmon in some water with a bay leaf and some peppercorns (this will take about 10 minutes, depending on the size of your fish). Combine a pot of creme fraiche with two eggs and season.
Layer the leeks and salmon on top of the pastry case (that's been baked blind) and top with the egg mixture and some grated cheese. Season again and then bake for about half an hour.
Quick and tasty; perfect for a Saturday lunch with salad and a baked potato.
No Comments! Be The First!
Leave a Reply
You must be logged in to post a comment.